Pineapple Marketing Efficiency in the Perspective of Islamic Economics
Rina Dwi Wulandari

Faculty of Law, University of Muhammadiyah Palembang, Indonesia
Keywords:
Gaung Asam Village; Islamic Economics; Pineapple Marketing
Abstract
The study aims to determine the marketing distribution of pineapples and to know the level of efficiency of pineapple marketing from the perspective of the sharia economy. This research is field research conducted in Gaung Asam Village, Belida Darat District, Muara Enim Regency. The population is ten farmers in Gaung Asam Village, and samples were taken randomly from 5 farmers. The data collection techniques use observation, interviews, and documentation. The data analysis technique is from the marketing activities produced by farmers and pineapple prices in Gaung Asam Village. The results showed that in marketing their harvest, farmers in Gaung Asam village used two marketing techniques. First, farmers directly selling the harvest to the city, it is the simplest form of marketing that only involves farmers with buyers. Second, farmers sell their products to collectors, and then these traders sell them back to buyers in the city. This marketing distribution involves several actors; farmers, collectors, and buyers. Those who are involved in economic activity are mutually beneficial. For farmers, they can create jobs for the community and make it easier for traders to find producers who sell pineapples in Gaung Asam Village. Then, the traders make farmers easy to sell their products. Marketing efficiency can be seen from the marketing costs and marketing benefits generated from these economic activities. Furthermore, based on the results of interviews, it is known that farmers and traders are not controlled by any party.
References
Amao, I O, O Adebisi-Adelani, F B Olajide-Taiwo, I B Adeoye, K M Bamimore, and others. 2011. 'Economic Analysis of Pineapple Marketing in Edo and Delta States Nigeria', Libya Agriculture Research Center Journal International, 2.5.
Arinloye, Djalalou Dine A.A., Stefano Pascucci, Anita R. Linnemann, Ousmane N. Coulibaly, Geoffrey Hagelaar, and others. 2015. 'Marketing Channel Selection by Smallholder Farmers', Journal of Food Products Marketing, 21.4 .
Edwar, Ahmad, and Rahma Danti. 2021. 'Akhlak Perilaku Iklan Dalam Prespektip Bisnis Islam', Kordinat: Jurnal Komunikasi Antar Perguruan Tinggi Agama Islam, 20.1 .
Hardiati, Neni, Sindi Widiana, and Seproni Hidayat. 2021. 'Model-Model Penyelesaian Sengketa Ekonomi Syariah Di Indonesia', Transekonomika: Akuntansi, Bisnis Dan Keuangan, 1.5 .
Jaroensathapornkul, Jirawat. 2020. 'Impacts of Technological Shock on the Agricultural Business Cycle', Jurnal Ekonomi Malaysia, 54.1 .
Lawal, A. T., S. A. Danbazau, A. O. Yusuf, Y. S. Ahmad, A. A. Adomi, and others. 2020. 'ECONOMIC ANALYSIS OF MARKETING EFFICIENCY OF PINEAPPLE IN KANO STATE MARKETS, NIGERIA', FUDMA JOURNAL OF SCIENCES, 4.2 .
M, Syahirman Yusi. 2016. 'The Analysis of Production Function and Farm Marketing Efficiency of Pineapple (Ananas Comosus L Merr) in South Sumatera Province, Indonesia', African Journal of Agricultural Research, 11.23 .
Nahar, A., A. R. Saili, N. M. Hamzah, F. Abdul Fatah, Z. Yusop, and others. 2020. 'Challenges in Marketing Channel Selection by Smallholder Pineapple Growers in Samarahan, Sarawak, Malaysia', Food Research, 4 .
Syromyatnikov, Denis, Alexandr Geiko, Sattar Kuashbay, and Aizharkyn Sadikbekova. 2020. 'Agile Supply Chain Management in Agricultural Business', International Journal of Supply Chain Management, 9.3.
Wang, Chien Yi. 2019. 'Chilling Injury of Tropical Horticultural Commodities', HortScience, 29.9 .
Yanita, Mirawati, and Ira Wahyuni. 2021. 'KINERJA DAN EFISIENSI RANTAI PASOK (SUPPLY CHAIN) NANAS DI DESA TANGKIT BARU KECAMATAN SUNGAI GELAM KABUPATEN MUARO JAMBI', SEPA: Jurnal Sosial Ekonomi Pertanian Dan Agribisnis, 17.2 .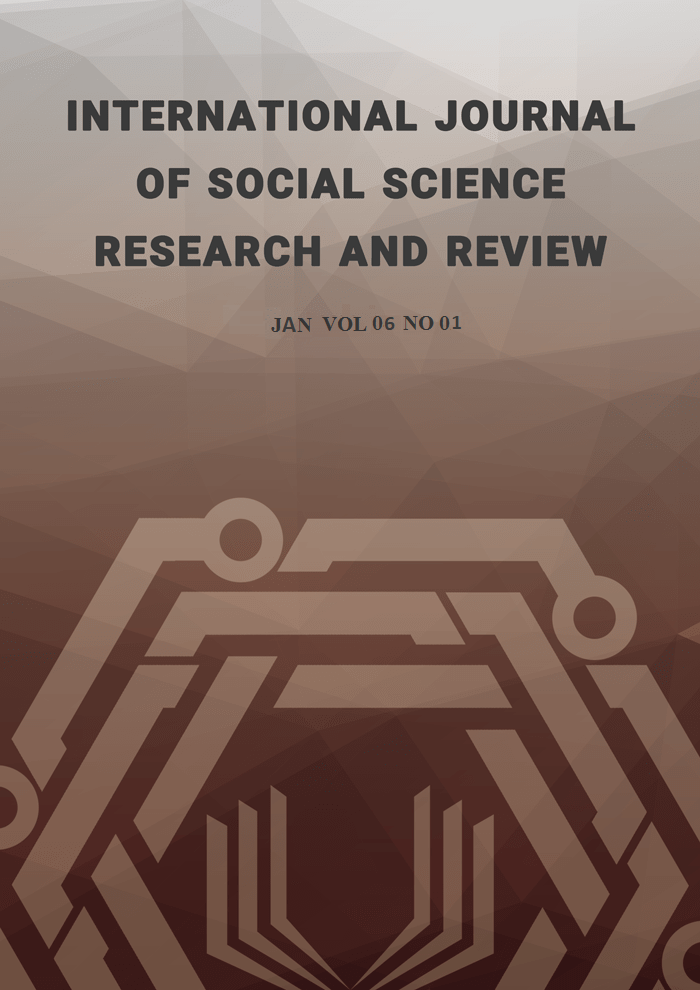 How to Cite
Wulandari, R. D. (2023). Pineapple Marketing Efficiency in the Perspective of Islamic Economics. International Journal of Social Science Research and Review, 6(1), 227-232. https://doi.org/10.47814/ijssrr.v6i1.891
This work is licensed under a Creative Commons Attribution-NonCommercial-NoDerivatives 4.0 International License.
Copyright for this article is retained by the author(s), with first publication rights granted to the journal. This is an open-access article distributed under the terms and conditions of the Creative Commons Attribution license (https://creativecommons.org/licenses/by-nc-nd/4.0/).