Law Enforcement Policy for Mayantara Crime (Cyber Crime) in Indonesia
Rayan Al Qabooli

Master of Law Study Program, Faculty of Law, Diponegoro University Jl. Imam Bardjo, SH No. 1-3 Pleburan UNDIP Campus, Semarang 50241, Indonesia

Joko Setiyono

Master of Law Study Program, Faculty of Law, Diponegoro University Jl. Imam Bardjo, SH No. 1-3 Pleburan UNDIP Campus, Semarang 50241, Indonesia
Keywords:
Policy; Law Enforcement; Mayanta Crime
Abstract
In the 2020 cyber police KA Bareskrim Polri confirmed that there had been a significant increase in cyber activity. This study aims to examine law enforcement as an effort to overcome cybercrime and efforts to deal with the occurrence of mayantara crime. The researcher uses a normative juridical approach that is using a positivist legal idea. This concept oversees the law as a normative system that is independent, closed and detached from the real life of society. Law enforcement in overcoming cybercrimes in Indonesia has not been implemented optimally. The factor that has the most influence on the weakness of existing law enforcement in dealing with cybercrimes in the anatomy of transnational crime is the legal factor (legal substance) which contains many weaknesses and law enforcement factors. Efforts to overcome these crimes can be in the form of preventive efforts and repressive efforts. Preventive efforts are preventive efforts made to prevent the emergence of a crime within the scope of society. Repressive efforts are one of the efforts that are conceptual in nature, where these efforts are carried out after the occurrence of a crime.
References
Book
Achmad Ali, Revealing the Law (A Philosophical and Sociological Study), Publisher Toko Gunung Agung, Jakarta, 2002.
Barda Nawawi Arief, 2006, Mayantara's Crime (Development of Cybercrime Studies in Indonesia), Raja Grafindo Persada, Jakarta.
Bernard L. Tanya, Yoan N. Simanjuntak and Markus Yage, 2010, Legal Theory of Orderly Human Strategy across Space and Generations, Genta Publishing, Yogyakarta.
Dikdik M. Arief Mansur and Elisatris Gultom, 2005, Cyber Law Legal Aspects of Information Technology, Refika Aditama, Bandung.
H. Zainuddin Ali, 2010, Legal Philosophy, Sinar Graphic, Jakarta.
Ibrahim, 2006, Theory and Methodology of Normative Law Research, Bayumedia Publishing, Malang.
Moeljatno, 2000, Principles of Criminal Law, Bina Literacy, Jakarta.
Romli Atmasasmita, 2007, Theory and Capita Selecta Criminology, Refika Aditama, Bandung.
Satjipto Rahardjo, 2009, Law and Good Life Behavior are Good Legal Basis, Kompas, Jakarta.
Soemanto, 2009, Technical Guidelines for Thesis Writing, Bumi Aksara, Jakarta.
Suteki and Taufani, 2020, Legal Research Methodology (Philosophy, Theory and Practice), Raja Grafindo Persada, Jakarta.
Journal Article
Budi Kristian Bivanda Putra, "Cyber Crime Application Policy in Indonesia", Pamulang Law Review, Vol.1 Issue 1, 2018.
Harjinder Singh Lallie, Lynsay A. Shepherd, Jason RC Nurse entitled "Cyber Security In The Age Of COVID-19: A Timeline And Analysis Of Cyber-Crime And Cyber-Attacks During The Pandemic", Elsevier Journal, Vol. 105, June 2021.
I Gusti Ayu Suanti Karnadi Singgi, I Gusti Bagus Suryawan, and I Nyoman Gede Sugiartha entitled "Law Enforcement Against Hacking Crimes as a Form of Mayantara Crime (Cyber Crime)", Journal of Legal Construction, Vol. 1 No. 2, October 2020.
JPNN, 2020. Retrieved from the Number of Cyber Crimes Has Significantly Increased in the Last Five Years: https://www.jpnn.com/news/nomor-kejahatan-siber-menin_gkat-signifikan-dalam-lima-tahun-terakhir.
Ngafifi, "Technological Progress and Human Life Patterns in a Socio-Cultural Perspective", Journal of Educational Development: Foundations and Applications, Vol. 2 No.1, 2014.
Yuwono Prianto, Nabila Annisa Fuzian, and Afif Farhan, "Constraints of Law Enforcement Against Cyber Crime During the Covid-19 Pandemic", Senapenmas Journal, October 2021.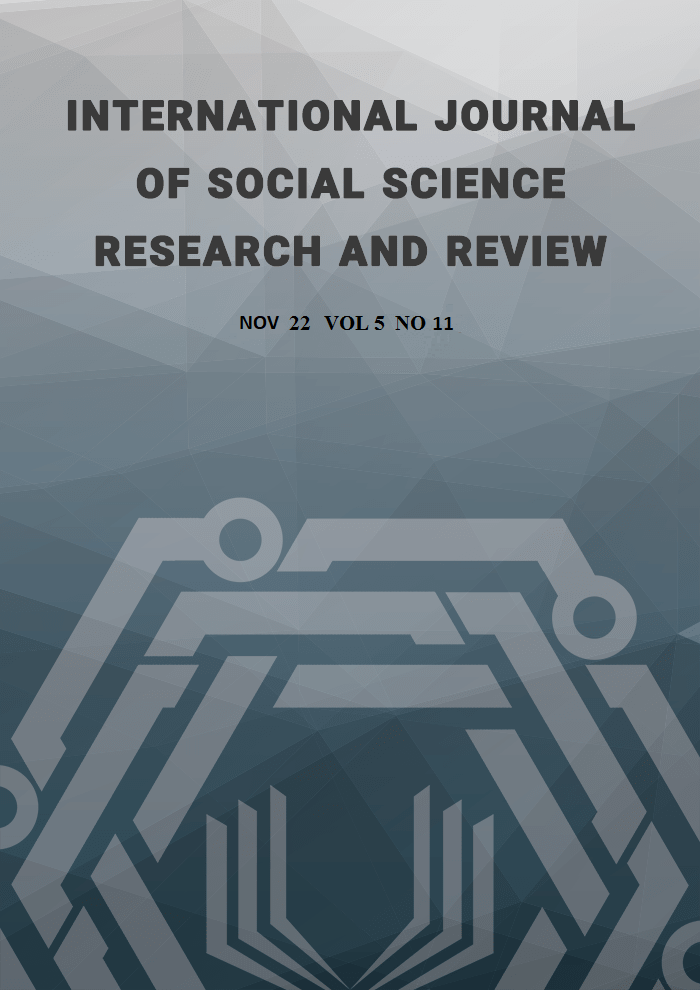 How to Cite
Al Qabooli, R., & Setiyono, J. (2022). Law Enforcement Policy for Mayantara Crime (Cyber Crime) in Indonesia. International Journal of Social Science Research and Review, 5(11), 426-434. https://doi.org/10.47814/ijssrr.v5i11.785
This work is licensed under a Creative Commons Attribution-NonCommercial-NoDerivatives 4.0 International License.
Copyright for this article is retained by the author(s), with first publication rights granted to the journal. This is an open-access article distributed under the terms and conditions of the Creative Commons Attribution license (https://creativecommons.org/licenses/by-nc-nd/4.0/).