Understanding the Grand Challenges of South African Police Women: Can Relevant Policy Measures Ease This Burden?
Dee Khosa

Lecturer, Department of Safety and Security Management, Tshwane University of Technology, South Africa
Keywords:
Police Women; Policy Measures; South African; Understanding Grand Challenges
Abstract
The population composition in South African total citizens displays that more than 50 percent are Females. In contrary, confusion arises when job opportunities and available vacant posts are not distributed equally with the Male. Thus, the objective of this study was to offer understandings of grand challenges of South African Police Women across South Africa, aided by this hanging question: Can relevant policy measures ease this burden? This qualitative study employed the Scoping Review research design. The non-probability: Purposive sampling was used. The collected data was restricted to 1990-2021. The inductive Textual Content Analysis (TCA) was applied for data analysis. Results indicate that there is an absence of effective policy and regulation that can boost the status of Females in the Police services or Law Enforcement Agencies (LEAs). This is selectively attributed to stereotypical outlook of Male population and resistance to contemporary changes. Moreover, the existence of numerous policies, including 'laws, rules and regulations,'implementations seem distant,further fueled by limited inspections and audits, which continues to deprive Females fair competitiveness with Males across many aspects. It is recommended that implementations of available polices to address challenges faced by Females in different societal sectors should be made an urgent priority. Males should also subject Females to impartial, fair treatment and tolerance. The complexity of SAPS should not be gender-based.
References
Alchin, A., Gouws, A & Heinecken, L. (2018). Making a difference in peacekeeping operations: Voices of South African Women peacekeepers. African Security Review, 27(1), pp.1-19.
Amakye, S., Chimhutu, V & Darkwah, E. (2021). Beyond the glass ceiling: an exploration of the experiences of female corporate organisational leaders in Ghana. Journal of Human Behavior in the Social Environment, pp.1-18.
Ariffin, A.S., Baqutayan, S.M.S & Mahdzir, A.M. (2020). Enhancing Women entrepreneurship development framework: Policy and institution gap and challenges in the case of Malaysia. Journal of Science, Technology and Innovation Policy, 6(2), pp.22-33.
Balasubramanian, S.A., Kuppusamy, T & Natarajan, T. (2018). Financial inclusion and land ownership status of Women. International Journal of Development Issues. International Journal of Development Issues, 18(1), pp. 51-69.
Baudron, F., Misiko, M., Getnet, B., Nazare, R., Sariah, J & Kaumbutho, P. (2019). A farm-level assessment of labor and mechanization in Eastern and Southern Africa. Agronomy for Sustainable Development, 39(2), pp.1-13.
Bezuidenhout, C., Van Rensburg, C.J., Matthee, M & Stolzenburg, V. (2019). Trading firms and the gender wage gap: evidence from South Africa. Agenda, 33(4), pp.79-90.
Casale, D & Posel, D. (2020). Gender and the early effects of the COVID-19 crisis in the paid and unpaid economies in South Africa. NIDS-CRAM Policy Paper No. 18.
Catalyst. (2022). Women CEOs of S&P 500. https://www.catalyst.org/research/Women -ceos-of-the-sp-500/.
Dhar, S. (2019). Gender and sustainable development goals. In India's Social Sector and SDGs (pp. 203-227). Routledge: India.
Diraditsile, K & Ontetse, M.A. (2017). Lived Experiences and Consequences of Unemployment on Women: An Emprirical study of Unemployed Young Women in Mahalapye, Botswana. Journal of International Women's Studies, 18(4), pp.131-143.
Farrell, A.L., Monk-Turner, E., Danner, M.J & Scallon, C.J. (2018). There is no crying in police work: Exploring police shootings with feminist methods. Gender Issues, 35(3), pp.220-235.
Gupta, S., Sahoo, P.K & Paltasingh, K.R. (2022). Does development deter crime against Women? Panel evidence from India. Journal of Business and Socio-economic Development. Journal of Business and Socioeconomic Development, 2(1), pp. 19-33.
Harling, G., Morris, K.A., Manderson, L., Perkins, J.M & Berkman, L.F. (2020). Age and gender differences in social network composition and social support among older rural South Africans: findings from the HAALSI study. The Journals of Gerontology: Series B, 75(1), pp.148-159.
Heinecken, L. (2022). Women still considered a threat to military effectiveness and warrior spirit https://mg.co.za/opinion/2022-03-23-Women -still-considered-a-threat-to-military-effectiveness-and-warrior-spirit/.
Hills, J. (2015). Addressing gender quotas in South Africa: Women empowerment and gender equality legislation. Deakin Law Review, 20(1), pp.153-184.
Khosa, D. (2021). Gender and Police Leadership: An Analysis of Metropolitan Police Departments in South Africa. International Journal of Criminology and Sociology, 10, pp.1333-1341.
Li, J.C., Cheung, J.C & Sun, I.Y. (2019). The impact of job and family factors on work stress and engagement among Hong Kong police officers. Policing: An International Journal, 42(11), pp.1-19.
Mackett, O. (2021). Quality of work and unpaid reproductive labour in the South African labour market. Journal of International Women's Studies, 22(7), pp.47-68.
Maffey, K.R & Smith, D.G. (2020). Women's participation in the Jordanian military and police: An exploration of perceptions and aspirations. Armed Forces & Society, 46(1), pp.46-67.
Maluleke, W. (2020). The African scare of fall armyworm: Are South African farmers immune? International Journal of Social Sciences and Humanity Studies, 12(1), pp.192-206.
Maluleke, W. (2016). The use of Deoxyribonucleic Acid in combating stock theft in South Africa. Unpublished Doctor Technologiae: Policing. Tshwane University of Technology: Soshanguve South.
Matandare, M.A. (2018). Botswana unemployment rate trends by gender: Relative analysis with upper middle-income Southern African countries (2000-2016). Dutch Journal of Finance and Management, 2(2), pp.1-13.
Matotoka, D & Odeku, K.O. (2018). Transformative interventions fostering mainstreaming of Black South African Women into managerial positions in the private sector. European Review of Applied Sociology, 11(16), pp.36-50.
Matthews, B and Ross, L. (2010). Research methods. A practical guide for the social sciences. Pearson: Essex.
Mayer, C.H., Oosthuizen, R.M & Tonelli, L. (2019). Subjective experiences of employment equity in South African organisations. SA Journal of Human Resource Management, 17(1), pp.1-12.
Mokwena, R.J & Maluleke, W. (2020). South African rural communities and the land restitution process: The application of criminological and legal theories in identifying obstacles to rightful allocations of land. Gender and Behaviour Journal, 18(3), 16145-16156.
Mokwena, R.J., Motsepe, L.L., Maluleke, W & Shandu, SN. (2020). A study of land restitution to rural communities in South Africa: An analysis of traditional leaders perceptives. Gender and Behaviour Journal, (18(3), pp.16132-16144.
Musavengane, R & Leonard, L. (2019). When race and social equity matters in nature conservation in post-apartheid South Africa. Conservation & Society, 17(2), pp.135-146.
O'Hara, C & Clement, F. (2018). Power as agency: A critical reflection on the measurement of Women's empowerment in the development sector. World Development, 106, pp.111-123.
Posel, D & Casale, D. (2019). Gender and the economy in post-apartheid South Africa: Changes and challenges. Agenda, 33(4), pp.3-10.
Rosman-Stollman, E. (2018). Military service as bargaining: The case of religious Women soldiers in Israel. Politics, Religion & Ideology, 19(2), pp.158-175.
Samanta, T. (2020). Women's empowerment as self-compassion? Empirical observations from India. Plos one, 15(5), 1-18.
Schmalz, S., Ludwig, C & Webster, E. (2018). The power resources approach: Developments and challenges. Global Labour Journal, 9(2), pp.113-134.
Sell, M. and Minot, N. (2018). November. What factors explain Women's empowerment? decision-making among small-scale farmers in Uganda. In Women's Studies International Forum. (71), pp.46-55.
Sinden, E. (2017). Exploring the gap between male and female employment in the South African workforce. Mediterranean Journal of Social Sciences, 8(6), pp.37-51.
Silverman, D. (2014). Interpreting qualitative data. Sage: Thousand Oaks, California.
Story, W.T., Tura, H., Rubin, J., Engidawork, B., Ahmed, A., Jundi, F., Iddosa, T & Abrha, T.H. (2020). Social capital and disaster preparedness in Oromia, Ethiopia: An evaluation of the "Women Empowered" approach. Social Science and Medicine, 257(c), pp.1-11.
Sychenko, E., Laruccia, M., Cusciano, D., Chikireva, I., Wenpei, L & Smit, P., 2019. Dismissal protection in the BRICS countries in light of International Labour Organisation Convention No. 158. BRICS Law Journal, 6(4), pp.34-66.
The World Bank. (2022). Population, female (% of total population) - South Africa. The World Bank. https://data.worldbank.org/indicator/sp.pop.totl.fe.zs?locations=za.
Unanam, H.R. (2020). Impact of Women's Economic Empowerment in Development: An Evaluation of Development Exchange Centre in Plateau State. International Journal of Gender and Women's Studies, 8(1), pp.1-16.
Wilén, N & Heinecken, L. (2018). Regendering the South African army: Inclusion, reversal and displacement. Gender, Work and Organisation, 25(6), pp.670-686.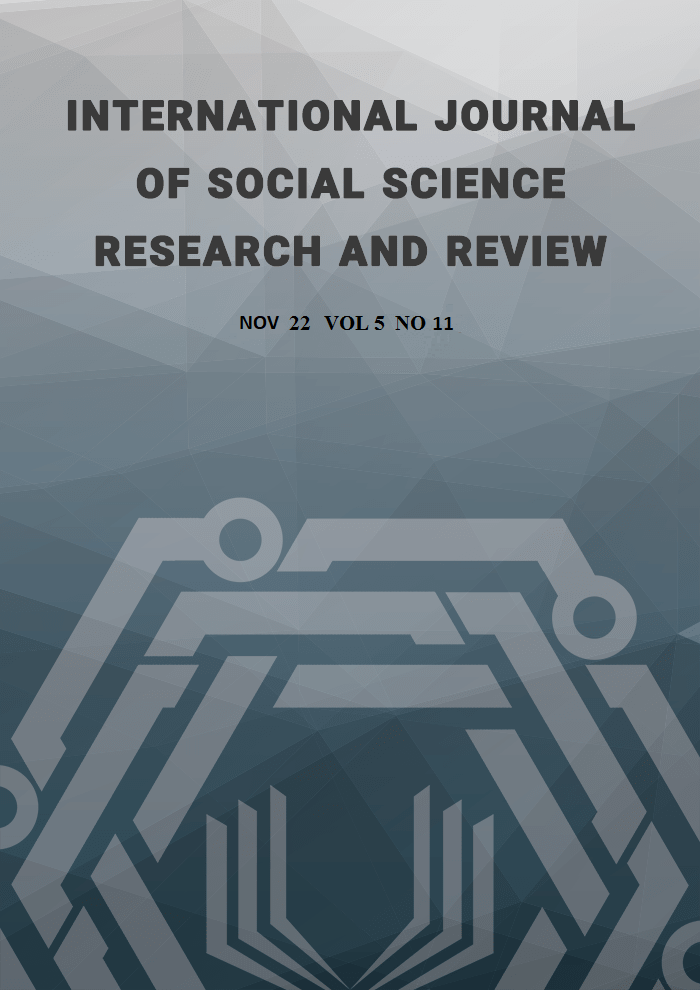 How to Cite
Khosa, D. (2022). Understanding the Grand Challenges of South African Police Women: Can Relevant Policy Measures Ease This Burden?. International Journal of Social Science Research and Review, 5(11), 239-250. https://doi.org/10.47814/ijssrr.v5i11.725
This work is licensed under a Creative Commons Attribution-NonCommercial-NoDerivatives 4.0 International License.
Copyright for this article is retained by the author(s), with first publication rights granted to the journal. This is an open-access article distributed under the terms and conditions of the Creative Commons Attribution license (https://creativecommons.org/licenses/by-nc-nd/4.0/).