Analysis of the Use of Google Classroom as a Low-Grade Integrated Thematic Learning Medium During the Covid-19 Pandemic
Aulia Fajar Khasanah

Master of Primary School Teacher Education Study Program, Sebelas Maret University, Indonesia

St,Y, Slamet

Master of Primary School Teacher Education Study Program, Sebelas Maret University, Indonesia

Rukayah Rukayah

Master of Primary School Teacher Education Study Program, Sebelas Maret University, Indonesia
Keywords:
Google Classroom, COVID-19, Online Learning
Abstract
During the COVID-19 pandemic, internet technology was critical to develop. As a result, schools are required to incorporate information technology into the learning process. The goal of this study was to determine how lower grade students used Google Classroom as an integrated thematic expansion medium. The descriptive qualitative method and case study approach were used in the research. Data collection methods include observation, interviews, and documentation. One of the online learning solutions is to use Google Classroom as an interactive learning media based on e-learning to assist teachers and students in the teaching and learning process from home in support of ICT-based learning. The findings revealed that the use of Google Classroom as a medium of learning in lower grades has not been maximized for these students; it is necessary to become accustomed to applying learning using Google Classroom learning media for face-to-face online meetings, learning materials, and learning evaluation so that teachers can explore the learning media used during the COVID-19 pandemic. The findings of this study have implications for developing a thematic tracking system that is more effective and appropriate for teachers and students in learning during the COVID-19 pandemic.
References
Afifi, G. M. H. (2011). E-learning as an alternative strategy for tourism higher education in Egypt. Quality Assurance in Education, 19(4), 357– 374. https://doi.org/10.1108/09684881111170078.
Almutairi et al. (2020). Public Trust and Compliance with The Precautionary Measures Against COVID-19 Employed by Authorities in Saudi Arabia. Risk Management and Healthcare Policy.
Andewi, Widi & Dwi Pujiastuti. (2021). Google Classroom: The Web-Based Media for Teaching English. Jurnal Penelitian Ilmu Pendidikan, 14(2). https://doi.org/10.21831/jpipfip.v14i1.41450.
Basilaia, G., Dgebuadze, M., Kantaria, M., & Chokhonelidze, G. (2020). Replacing the classic learning form at universities as an immediate response to the COVID-19 virus infection in Georgia. International Journal for Research in Applied Science & Engineering Technology, 8(III). https://doi.org/10.22214/ijraset.2020.3021.
Bennett, John., W. (1976). The Ecological Transition: Cultural Anthropology and Human Adaptation. Pergamon Press Inc.: New York.
Beaumont, K. (2018). Google Classroom: An online learning environment to support blended learning. Compass: Journal of Learning and Teaching, 11(2). https://doi.org/10.21100/compass.v11i2.837.
Brock Annie. (2015). Introduction To Google Classroom: An Easy-To-Use Guide to Taking Your Classroom Digital. CreateSpace Independent Publishing Platform.
Creswell, John W. (2015). Penelitian Kualitatif & Desain Riset. Yogyakarta : Pustaka Pelajar.
Dantes, G. R., Suarni, N. K., Dharsana, I. K., Dantes, N., Jayanta, I. N. L., Suwastini, N. K. A., & Putra, G. J. A. (2019). Evaluation of e-learning as a learning agent. International Journal of Innovation and Learning, 25(4), 451–464. https://doi.org/10.1504/IJIL.2019.099989.
Dhawan, S. (2020). Online Learning: A Panacea in the Time of COVID-19 Crisis. Journal of Educational Technology Systems, 49(1), 5–22. https://doi.org/10.1177%2F0047239520934018.
Diana, Mesra. (2017). Strategi Adaptasi Mahasiswa Kristen DI Universitas Islam Negeri Sultan Syarief Kasim Riau. Jurnal Jurusan Sosiologi- Fakultas Ilmu Sosial dan Ilmu Politik Riau. Universitas Islan Negeri Sultan Syarief Kasim Riau. Volume 4 No 2- oktober 2017: 7-8.
Ersani, N. P. D., Suwastini, N. K. A., Padmadewi, N. N., & Artini, L. P. (2021). Schemes of scaffolding in online education. Retorika: Jurnal Ilmu Bahasa, 7(1), 10–18. https://doi.org/10.22225/jr.7.1.2941.10-18.
Fauzan, F. A. (2020). Pemanfaatan Google Classroom Sebagai Media Pembelajaran Interaktif Di Tengah Dampak Penyakit Virus Corona 19 Bagi Pengajar. Jurnal Borneo Akcaya, 6(1), 93–102. https://doi.org/10.51266/borneoakcaya.v6i1.159.
Gikas, J., & Grant, M. M. (2013). Mobile computing devices in higher education: Student perspectives on learning with cellphones, smartphones & social 229 media. Internet and Higher Education, 19, 18-26. https://doi.org/10.1016/j.iheduc.2013.06.002.
Hakim, A.B. (2016). Efektifitas Penggunaan E-Learning Moodle, Google Classroom Dan Edmodo. STIMIK ESQ, 2(1), 1-6.
Iskandar, A., & dkk. (2020). Aplikasi Pembelajaran Berbasis TIK. Yayasan Kita Menulis.
Jethro OO., Grace AM., Thomas AK. (2012). E-learning and Its Effects on Teaching and Learning in a Global Age. International Journal of Academic Research in Business and Social Sciences, 2(1).
Kim, K.-J., & Bonk, C. J. (2006). The future of online teaching and learning in higher education: The survey says. Educause Quarterly, 4, 22–30.
Northey, G., Bucic, T., Chylinski, M., & Govind, R. (2015). Increasing student engagement using asynchronous learning. Journal of Marketing Education, 37(3), 171–180. https://doi.org/10.1177/0273475315589814.
Putra, R., & Irwansyah, I. (2020). Media Komunikasi Digital, Efektif namun Tidak Efisien, Studi Media Richness Theory dalam Pembelajran Jarak Jauh Berbasis Teknologi di Masa Pandemi. Jurnal Ilmu Sosial dan Politik, 1(2), 1-13.
Suparjan & Mariyadi. (2021). The motives using google classroom as a distance learning media during the covid-19 pandemic at the elementary school level in Pontianak. Jurnal Pendidikan Dasar dan Pembelajaran, 11(2) 203-214. https://doi.org/10.25273/pe.v11i2.8857.
Surahman, S. (2016). Determinisme Teknologi Komunikasi dan Globalisasi Media Terhadap Seni Budaya Indonesia. Jurnal Rekam, 12(1), 31–42.
Sugiyono (2015). Metode Penelitian Kombinasi (Mix Methods). Bandung: Alfabeta.
Sukmawati. 2020. Implementasi Pemanfaatan Google Classroom Dalam Proses Pembelajaran Online di Era Industri 4.0. Jurnal Kreatif Online, 8(1).
Suwastini, N. K. A., Nalantha, I. M. D & Dantes, G. R. (2021). The Effectiveness Of Google Classroom Media in The Teaching English For Tourism at a Tourism and Business Institute. Indonesia Journal of English Education, 8(2). https://doi.org/10.15408/ijee.v8i2.21932.
Shidiq, U., & Choiri, M. M. (2019). Metode penelitian kualitatif di bidang pendidikan. Ponorogo: CV Nata Karya.
Sriyani, Ika. (2021). Google Classroom Sebagai Solusi Pembelajaran Jarak Jauh Mata Pelajaran Administrasi Umum. Indonesian Journal of Education and Learning, Vol. 4 No.2. https://doi.org/10.31002/ijel.v4i2.3111.
Uhlul, Q. (2021). Upaya Peningkatan Kualitas Pembelajaran Daring bagi Peserta Didik MI/SD pada Masa Pandemi Covid-19. Jemari: Jurnal Edukasi Madrasah Ibtidaiyah, 3(1), 10. https://doi.org/10.30599/jemari.v3i1.769.
Vonderwell, S., & Zachariah, S. (2005). Factors that influence participation in online learning. Journal of Research on Technology in Education, 38(2), 213–230. https://doi.org/10.1080/15391523.2005.10782457.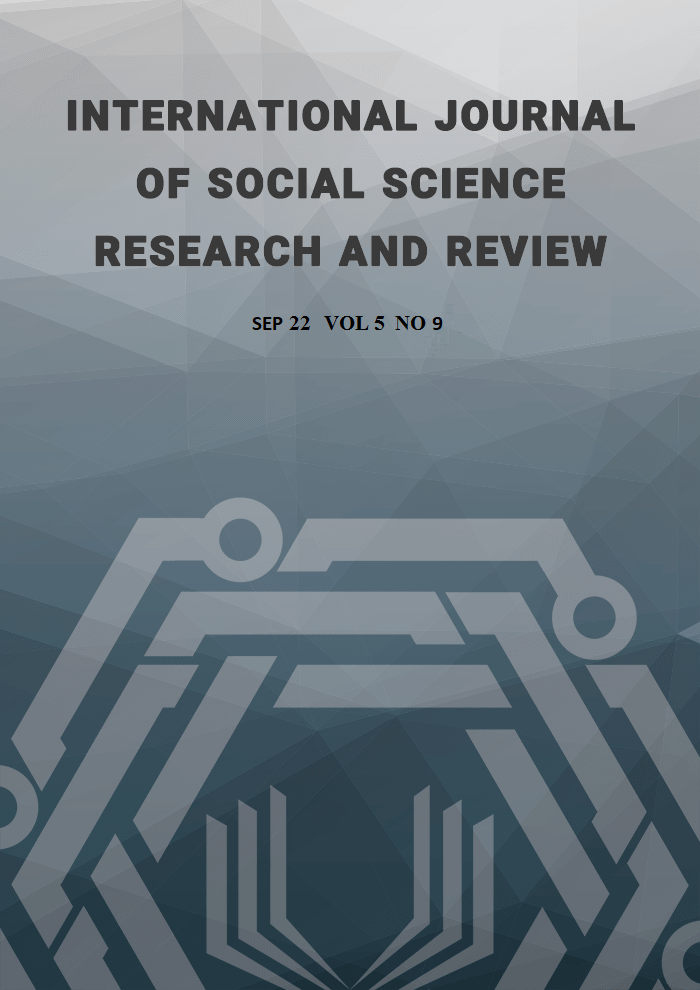 How to Cite
Khasanah, A. F., Slamet, S., & Rukayah, R. (2022). Analysis of the Use of Google Classroom as a Low-Grade Integrated Thematic Learning Medium During the Covid-19 Pandemic. International Journal of Social Science Research and Review, 5(9), 348-356. https://doi.org/10.47814/ijssrr.v5i9.487
Copyright (c) 2022 Aulia Fajar Khasanah, St,Y, Slamet, Rukayah Rukayah
This work is licensed under a Creative Commons Attribution-NonCommercial-NoDerivatives 4.0 International License.
Copyright for this article is retained by the author(s), with first publication rights granted to the journal. This is an open-access article distributed under the terms and conditions of the Creative Commons Attribution license (https://creativecommons.org/licenses/by-nc-nd/4.0/).