Perspectives on Contributing Factors to Rape in the Selected Areas of Mankweng, South Africa
Sekwaila Naum Mamabolo

Master of Arts: Criminology graduate, Department of Criminology and Criminal Justice, University of Limpopo, South Africa

Khomotjo Lekgau

Lecturer, Department of Criminology and Criminal Justice, University of Limpopo, South Africa

Witness Maluleke

Senior lecturer, Department of Criminology and Criminal Justice, University of Limpopo, South Africa
Keywords:
Contributory Factors; Mankweng Policing Area; Perceptions; Rape; South Africa
Abstract
Rape has always been a thorny issue in out postmodern society and South Africa has been confirmed to be the rape capital of the world. Our current society has overlooked, normalised, and made rape invisible due to our societal norms relating gender and culture connotations. The objective of the study was to explore the perceptions of community members on contributing factors to rape in the selected areas of Mankweng. This qualitative study employed the 'Qualitative' [Q]-methodology research design, supported by the exploratory research design for the explorations of community members' perceptions on contributing factors to rape in selected areas of Mankweng. About Thirty (30) participants were purposively selected to form part of the Focus Group Discussions (FGDs). The findings of this study showcased that the contributory factors to rape incidences in the Mankweng policing areas can be categorised under these Three (03) themes: 1) Structural, 2) Socio-cultural, and; 3) Economic factors. These factors increase chances of women being raped. Therefore, primary preventative interventions should be more focused on re-building women's status in societies and implementing programmes to educate them about rape and the National government and Non-Governmental Programmes (NPOs) should aim at promoting both social and economic empowerment of young women, focusing on financing their intended projects to encourage their independency and avoid over reliance to man. The monthly programmes and awareness campaigns should be hosted to educate community members about the contributory factors to rape and related consequences thereof, as well as effective preventative measures.
References
Abeid, M., Muganyizi, P., Olsson, P., Darj, E & Axemo, P. (2014). Community perceptions of rape and child sexual abuse: a qualitative study in rural Tanzania. BMC International Health and Human Rights, 14(1), pp.1-13. https://doi.org/10.1186/1472-698X-14-23.
Aderemi, I.A & Lawal, A.M. (2011). Attitudes towards rape among Nigerian young adults: the role of gender, parental family structure and religiosity. Gender and Behaviour, 9 (2): 3886-3896. https://hdl.handle.net/10520/EJC34708.
Blondeel, K., De Vasconcelos, S., García-Moreno, C., Stephenson, R., Temmerman, M & Toskin, I. (2018). Violence motivated by perception of sexual orientation and gender identity: a systematic review. Bulletin of the World Health Organisation, 96(1): 29. https://doi.org/10.2471/BLT.17.197251.
Braun, V & Clarke, V. (2014). What can "Thematic analysis" offer health and wellbeing researchers? International Journal of Qualitative Studies on Health and Well-being, 9(1): 1-2. https://doi.org/10.3402/qhw.v9.26152
Burke, A. (2019). Abnormal psychology: A South African perspective. 3rd Edition. Cape Town, South Africa: Oxford University Press Southern Africa.
Census South Africa. (2011). Mankweng population. https://census2011 ...
Centers for Disease Control and Prevention. (2020). Violence prevention. https://www.cdc.gov/violenceprevention/sexualviolence/riskprotectivefactors.html.
Cherry, J & Hategekimana, C. (2013). Ending gender-based violence through grassroots women's empowerment: Lessons from post-1994 Rwanda. Journal of Men and Violence, 27(1), 100-113. https://doi.org/10.1080/10130950.2013.793895.
Chiremba, W. (2015). Understanding sex offending in Namibia: A preliminary analysis. Acta Criminologica: African Journal of Criminology and Victimology: 1, 62-81.
Cowan, G. (2000). Beliefs about the causes of four types of rape. Sex Roles, 42(9), 807-823. https://doi.org/10.1023/A:1007042215614.
Daruwalla, N, Machchhar, U, Pantvaidya, S, D'Souza, V, Gram, L, Copas, A & Osrin, D. (2019). Community interventions to prevent violence against women and girls in informal settlements in Mumbai: The SNEHA-TARA pragmatic cluster randomised controlled trial. Trials. 20(1): 1-12. https://doi.org/10.1186/s13063-019-3817-2.
Davies, M, Austen, K & Rogers, P. (2011). Sexual preference, gender and blame attributions in adolescent sexual assault. The Journal of Social Psychology 15 (5): 592-607. https://doi.org/10.1080/00224545.2010.522617.
De Vos, AS, Delport, CSL, Fouché, CB & Strydom, H. (2011). Research at grass roots: A primer for the social science and human professions. Hartfield: Van Schaik Publishers.
De Vries, H, Eggers, SM, Jinabhai, C, Meyer-Weitz, A, Sathiparsad, R & Taylor, M. (2014). Adolescents' beliefs about forced sex in KwaZulu-Natal, South Africa: Archives of Sexual Behaviour, 43(6): 1087-1095. https://doi.org/10.1007/s10508-014-0280-8.
Elwood, LS, Mott, J, Lohr, JM & Galovski, TE. (2011). Secondary trauma symptoms in clinicians: A critical review of the construct, specificity, and implications for trauma-focused treatment. Clinical Psychology Review, 31(1): 25-36. https://doi.org/10.1016/j.cpr.2010.09.004.
Fattah, E.A. (2000). Victimology Today: Recent theoretical and applied developments. Resource Material Series, 6:60-70.
Fattah, E.A. (2000). Victimology: Past, present and future. Criminologie, 33: 17-46. https://doi.org/10.7202/004720ar.
Faull, A. (2011). Corruption in the South African Police Service: Civilian perceptions and experiences. Institute of Security Studies, (226): 24. https://hdl.handle.net/10520/EJC48894
Freccero, J., Harris, L., Carnay, M & Taylor, C. (2011). Responding to sexual violence: Community approaches. California: Human Rights Center.
Ghanotakis, E., Bruins, M., Peacock, D., Redpath, J & Swart, R. (2007). Stop prison rape in South Africa. Agenda, 21(74), 68-80. DOI: 10.1080/10130950.2007.9674878.
Hindelang, M.J., Gottfredson, R & Garofalo, J. (1978). Victims of personal crime: An empirical foundation for a theory of personal victimisation. Cambridge, MA: Ballinger.
Jewkes, R. (2002). Intimate partner violence: causes and prevention. Lancet, 359(9315): 1423-1429. https://doi.org/10.1016/S0140-6736(02)08357-5.
Jewkes, R. (2002). Preventing sexual violence: A rights-based approach. Lancet, 360 (9339): 1092-1093. https://doi.org/10.1016/S0140-6736(02)11135-4.
Jewkes, R., Sen, P & Garcia- Moreno, C. 2002. Sexual violence: Word report on violence and health. Geneva: World Health Organisation.
Jewkes, R., Sikweyiya, Y., Morrell, R & Dunkle, K. (2011). Gender inequitable masculinity and sexual entitlement in rape perpetration South Africa: findings of a cross-sectional study. PloS one, 6(12): 29. https://doi.org/10.1371/journal.pone.0029590.
Kann, L. (2008). A dangerous game: Male adolescents' perceptions and attitudes towards sexual consent. Unpublished Master of Arts: Community based-counselling. Johannesburg: University of Witwatersrand.
Lawyer, S, Resnick, H, Bakanic, V, Burkett, T & Kilpatrick, D. (2010). Forcible, drug-facilitated, and incapacitated rape and sexual assault among undergraduate women. Journal of American College Health, 58(5): 453-460. https://doi.org/10.1080/07448480903540515
Mudzana, P.S. (2016). Factors contributing to non-reporting of rape by school going adolescents in Matsulu Township of South Africa. Unpublished Master of Arts: Nursing Science. Pretoria: University of South Africa.
Mukanangana, F, Moyo, S, Zvoushe, A & Rusinga, O. (2014). Gender based violence and its effects on women's reproductive Health: The case of Hatcliffe, Harare, Zimbabwe. African Journal of Reproductive Health, 18(1): 110-122.
Oshiname, F.O, Ogunwale, A.O & Ajuwon, A.J. (2013). Knowledge and perceptions of date rape among female undergraduates of a Nigerian university. African Journal of Reproductive Health, 17(3): 137-148.
Peacock. R (Editor). (2013). Victimology in South Africa. 2nd Edition. Hartfield: Van Schaik.
Pilgrim, N.A, Ahmed, S., Gray, R.H., Sekasanvu, J., Lutalo, T., Nalugoda, F.K., Sarwadda, D & Wawer, M.J. (2012). Sexual coercion among adolescent women in Rakai Uganda: does family structure matter? Journal of Interpersonal Violence, 20 (6) 1289-1313. https://doi.org/10.1177/0886260512468246
Polit, DF & Beck, CT. (2008). Nursing research: Generating and assessing evidence for nursing practice. 8th Edition. Philadelphia: Lippincott Williams and Wilkins.
Rasmussen, LA, Lev-Wiesel, R & Eisikovits, Z. (2013). Current perspectives on children and youth who sexually abuse. Journal of Child Sexual Abuse, 22 (1): 1-8. https://doi.org/10.1080/10538712.2013.744644.
Reyes, H.L.M & Foshee, V.A. (2013). Sexual dating aggression across grades 8 through 12: Timing and predictors of onset. Journal of Youth and Adolescence, 42(4): 581-595. https://doi.org/10.1007/s10964-012-9864-6.
Richter, L, Norris, SA & Ramjith, J. 2015. Early sexual debut: voluntary or coerced? Evidence from longitudinal data in South Africa-the Birth to Twenty Plus study. South African Medical Journal, 105(4): 304-307.
Saponaro, A. (2013). Chapter 2: Theoretical approaches and perspectives in victimology. In: victimology in South Africa. Edited by Peacock, R. 2nd Edition. Hartfield: Van Schaik.
Searles, P & Berger, R. J. (1987). The current states of rape reform legislation: An examination of state statutes. Women's Right Law Reporter, 10, 25-43. https://doi.org/10.2307/3053439.
Van Decraen, E, Michielsen, K, Van Rossem, R, Temmerman, M & Herbots, S. (2012). Sexual coercion among in-school adolescents in Rwanda: prevalence and correlates of victimisation and normative acceptance. African Journal of Reproductive Health, 16(3): 139-153.
Walklate, S. (2003). Understanding criminology: Current theoretical debates. Buckingham: Open University Press.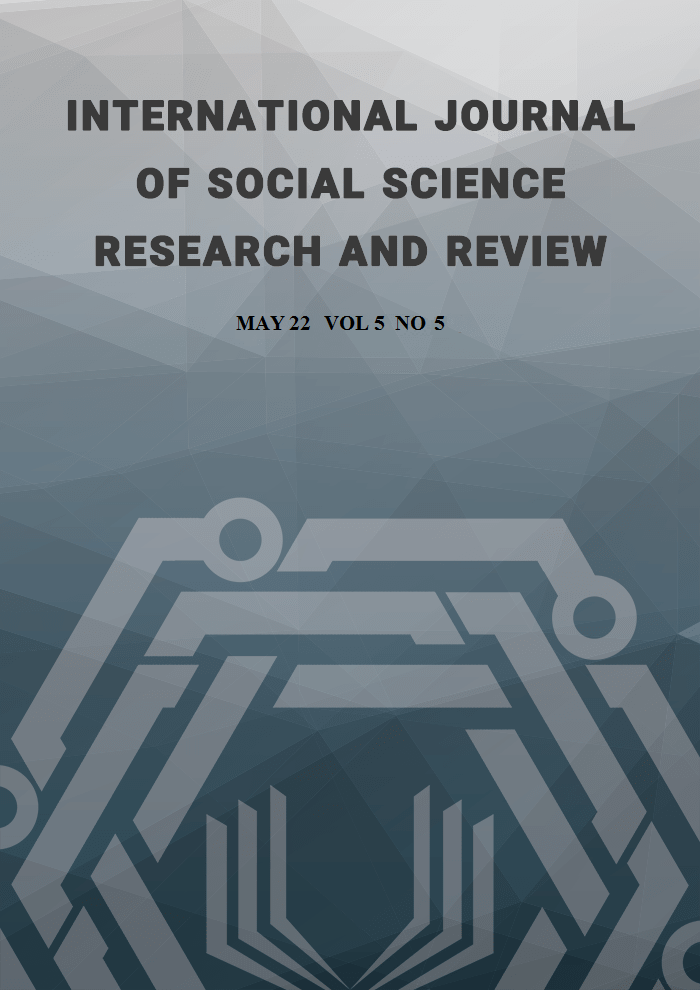 How to Cite
Mamabolo, S. N., Lekgau, K., & Maluleke, W. (2022). Perspectives on Contributing Factors to Rape in the Selected Areas of Mankweng, South Africa. International Journal of Social Science Research and Review, 5(5), 121-135. https://doi.org/10.47814/ijssrr.v5i5.305
Copyright (c) 2022 Sekwaila Naum Mamabolo, Khomotjo Lekgau, Witness Maluleke
This work is licensed under a Creative Commons Attribution-NonCommercial-NoDerivatives 4.0 International License.
Copyright for this article is retained by the author(s), with first publication rights granted to the journal. This is an open-access article distributed under the terms and conditions of the Creative Commons Attribution license (https://creativecommons.org/licenses/by-nc-nd/4.0/).