The Impact of Work from Home and Work Stress on the Performance of Bappeda Employees of the South Sumatra Province of Palembang
I Dewo Putu Arisandi

Faculty of Economics, Sriwijaya University, Palembang, Indonesia

Badia Perizade

Faculty of Economics, Sriwijaya University, Palembang, Indonesia

Agustina Hanafi

Faculty of Economics, Sriwijaya University, Palembang, Indonesia
Keywords:
Work From Home; Work Stress; Employee Performance
Abstract
Employee performance is the result of work performed by employees by job-specific criteria. Work From Home factors and work-related stress influence employee performance. The research was conducted with BAPPEDA employees in the province of South Sumatra. The number of respondents sampled was 137, and survey questionnaires and personal interviews were used to collect data. Multiple linear regression is the method of analysis used. Work from home has a positive effect on performance, work stress affects performance, and both affect employee performance, according to research. This study demonstrates that the negative impact of work from home is stress, resulting in decreased employee performance.
References
Ashal, Rezeky Ana. 2020. "Pengaruh Work From Home Terhadap Kinerja Aparatur Sipil Negara Di Kantor Imigrasi Kelas I Khusus TPI Medan." Jurnal Ilmiah Kebijakan Hukum 14(2):223.
Budhiekusuma, Noor Patria, Sasongko Pramono Hadi, and Wing Wahyu Winarno. 2017. "Peluang Pemanfaatan Telecommuting Dalam Pemerintahan Di Indonesia." Journal Pekommas 2(2):151–60.
Dedi, Adi Krisnanto Hartono &. and Rianto Rahadi. 2021. "Work From Home Terhadap Kinerja Karyawan Pada Masa Pandemi Covid 19 Adi Krisnanto Hartono (1) Dedi Rianto Rahadi (2)." Jurnal Manajemen Bisnis 18(1):16–21.
Mustajab, Duta, Azies Bauw, Abdul Rasyid, Andri Irawan, Muhammad Aldrin Akbar, and Muhammad Amin Hamid. 2020. "Working From Home Phenomenon As an Effort to Prevent COVID-19 Attacks and Its Impacts on Work Productivity." TIJAB (The International Journal of Applied Business) 4(1):13.
Olusegun, A. J.; Oluwasayo, A. J.; & Olawoyim, O. 2014. "An Overview of the Effects of Job Stress on Employees in Nigeria Tertiary Hospitals." Scientific Review Article 4(January):139–53.
Purwanto, Agus, Rudy Pramono, Masduki Asbari, Priyono Budi Santoso, Laksmi Mayesti Wijayanti, Chi Hyun Choi, and Ratna Setyowati Putri. 2020. "Studi Eksploratif Dampak Pandemi COVID-19 Terhadap Proses Pembelajaran Online Di Sekolah Dasar." EduPsyCouns: Journal of Education, Psychology and Counseling 2(1):1–12.
Raghuram, Sumita. 2014. "Telecommuting in India: Pitfalls and Possibilities." South Asian Journal of Human Resources Management 1(2):207–20.
Rokhani, Cicilia Tri Suci. 2020. "Pengaruh Work From Home (WFH) Terhadap Kinerja Guru SD Negeri Dengkek 01 Pati Selama Masa Pandemi Covid-19." EduPsyCouns: Journal of Education, Psychology and Counseling 2(1):424–37.
Subri, Aditama. 2012. Manajemen Sumber Daya Manusia. Jakarta: PT. Bumi Aksara.
Sudbyo, Darsono. 2016. "Perempuan Pejabat Struktural-Di Birokrasi Lebih Sedikit Daripada Laki-Laki." BKN (Badan Kepegawaian Negara). Retrieved (https://www.bkn.go.id/berita/perempuan-pejabat-struktural-di-birokrasi-lebih-sedikit-daripada-laki-laki).
Sugiyono. 2018. Metode Penelitian Kuantitatif, Kualitatif, Dan R&D. Bandung: Alfabeta.
Susilo, Donny. 2020. "Revealing the Effect of Work-From-Home on Job Performance during the Covid-19 Crisis: Empirical Evidence from Indonesia." Journal of Contemporary Issues in Business and Government 26(01):23–40.
Suspahariati, Suspahariati and Ririn Susilawati. 2020. "Penerapan Sistem WFH (Work From Home) Dan Dampaknya Terhadap Kinerja Staf Dan Dosen Unipdu Jombang Selama Pandemi Covid-19." Dirāsāt: Jurnal Manajemen Dan Pendidikan Islam 6(20):229–40.
Uma Sekaran. 2009. Metode Penelitian Untuk Bisnis. Jakarta: Salemba Empat.
Zeb, Alam, Gouhar Saeed, and Shafiqur Rehman. 2015. "The Impact of Job Stress on Employee's Performance : Investigating the Moderating Effect of Employees Motivation." City University Research Journal 5(1):120–29.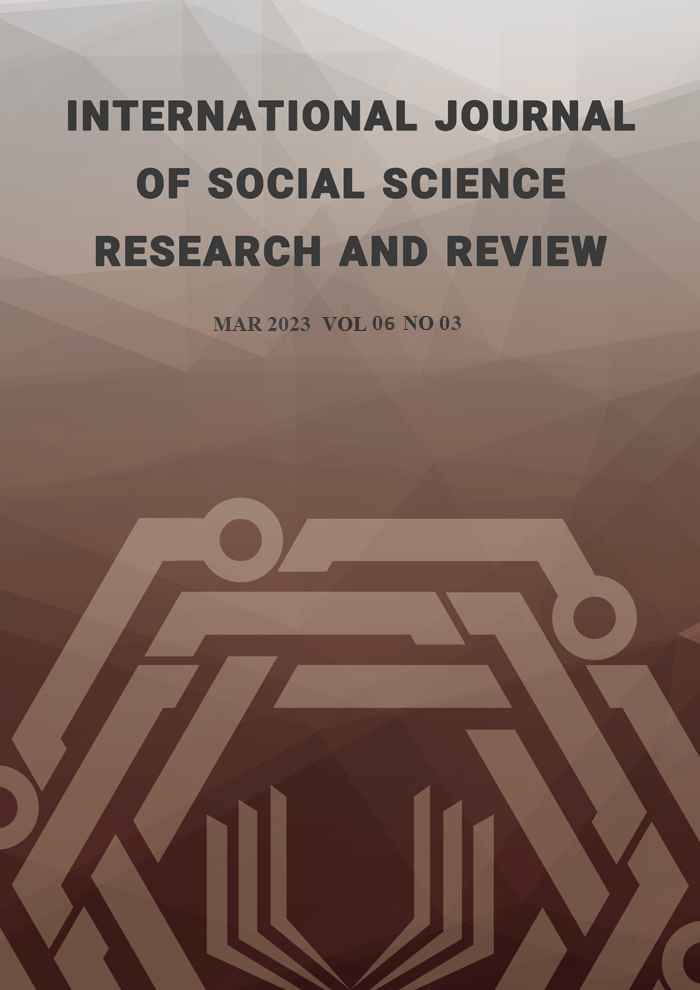 How to Cite
Arisandi, I. D. P., Perizade, B., & Hanafi, A. (2023). The Impact of Work from Home and Work Stress on the Performance of Bappeda Employees of the South Sumatra Province of Palembang. International Journal of Social Science Research and Review, 6(3), 324-335. https://doi.org/10.47814/ijssrr.v6i3.1097
This work is licensed under a Creative Commons Attribution-NonCommercial-NoDerivatives 4.0 International License.
Copyright for this article is retained by the author(s), with first publication rights granted to the journal. This is an open-access article distributed under the terms and conditions of the Creative Commons Attribution license (https://creativecommons.org/licenses/by-nc-nd/4.0/).