The Role of Informal Land Dispute Settlement Mechanisms on Family Land Ownership in Tanzania: A Case Study of Mbeya District, Mbeya Region
Edward Karumiana Mwaigombe

Kampala International University in Tanzania, Department of Postgraduate and Research Kampala International University in Tanzania Dar es Salaam

Frataline Kashaga

Senior Lecturer of Kampala International University in Tanzania, Dare es Salaam
Keywords:
Informal Land Dispute Settlements Mechanisms, Family Land Ownership
Abstract
Informal land disputes settlement mechanisms epitomize a classic example of valuable and useful indigenous knowledge, which Africans have acquired for ages but is not being recognized and sometimes not fully utilized in contemporary African societies. The study aimed to assess the role of informal land dispute settlement mechanisms on family land ownership in Tanzania: A case of Mbeya district. The specific objectives of the study were to identify nature and causes of informal land dispute settlement mechanisms on family land ownership in Mbeya district and to examine the effectiveness of informal land dispute settlement mechanisms on family land ownership in Mbeya district. The study adopted case study research design, target population of the study was 446 respondents, and sample size of the study was 128 respondents. This study employed both qualitative and quantitative research approach data collection tools used was questionnaires, interview and focus group discussion. The study findings indicated that causes of disputes on family land ownership and effectiveness of informal dispute settlement mechanism significantly lead to family land ownership conflicts in Mbeya district as well as in Tanzania. The study concluded that informal land dispute settlement mechanisms help people within the community to attain land ownership through chiefs and community elders  because this mechanism can strengthen  solidarity, ethnics discipline in the community and recommended that the government should formulate policy and law governing informal land dispute settlement mechanisms on family land ownership to be accommodated in the local system to facilitate quickly land matters rather than depending on western system.
References
Bennett, A. (2004). Case study methods: Design, use, and comparative advantages. Models, numbers, and cases: Methods for studying international relations, 19-55.
Carse, A. (2012). Nature as infrastructure: Making and managing the Panama Canal watershed. Social Studies of Science, 42(4), 539-563.
Clarke, R.A. (2009). "Securing Communal Land Rights to Achieve Sustainable Development in Sub-Saharan Africa: Critical Analysis and Policy Implications." Journal of Law, Environment and Development5(2): 130-146.
Deininger, K., Selod, H., & Burns, A. (2011). The land governance assessment framework: Identifying and monitoring good practice in the land sector. The International Bank for Reconstruction and Development.
Dlamini-Ndwandwe, N. F. (2013). Customary laws and practices relating to land property and the right to equality in Swaziland's Constitution. Southern African Public Law, 28(2), Pg 329-345
Fairley, E. C. (2013). Upholding Customary Land Rights through Formalization? Evidence from Tanzania's Program of Land Reform. University of Minnesota.
Handzic, K. (2010). Is legalized land tenure necessary in slum upgrading? Learning from Rio's landtenure policies in the Favela Bairro Program. Habitat International, 34(1), 11-17.
Home, R. (2020). Land dispute resolution and the right to development in Africa. Journal for Juridical Science, 45(1), 72-92.
Kalabamu, F. T. (2021). Land conflicts and alternative dispute resolution in Sub-Saharan Africa: The Case of Botswana. (pp. 171-187). Springer, Cham.
Khalid, K., Abdullah, H. H., & Kumar M, D. (2012). Get along with quantitative research process. International Journal of Research in Management, 2(2), 15-29Makupa and Alananga, (2018).
Makupa, E. R., & Alananga, S. (2018). Compulsory land acquisition and good governance: An Assessment of the Luguruni Satellite Town Project in Dar es Salaam Tanzania. African Journal on Land Policy and Geospatial Sciences, 1(3), 18-31.
Marioara Rusu, Violeta Florian, Monica Tudor, Mihai Chitea, Lorena Chitea, and Elisabeta Rosu. "Land related disputes and conflicts in Romania." Agricultural Economics and Rural Development Romanian Academy Journal, no. 1 (2011): 127-145.
Marwa, J. (2015). Challenges facing village land councils in managing land disputes: A case study of Girango Division Rorya District–Mara region (Mzumbe University Doctoral Dissertation).
Mtenga, V. D. (2019). A history of land conflicts among farmers and pastoralists in Morogoro region, 1890s–2015 (Doctoral Dissertation University of Dodoma).
Mwita, J. (2017). Ethnic Land Conflict a Constant Struggle in Kenya: A Critical inquest on the role played by the Methodist church in Meru County, Kenya (Master's thesis - MF Norwegian School of Theology).
Ocansey, I. (2013). Mining impacts on agricultural lands and food security: Case study of towns in and around Kyebi in the Eastern Region of Ghana. Bachelor's thesis Turku University of applied sciences thesis.
Oloyede, S. A., Ajibola, M. O., & Oni, A. O. (2007). Informal land delivery system in Lagos State, Nigeria. Journal of Land Use and Development Studies, 3(1), 139-145.
Sackey, G. (2010). Investigating justice systems in land conflict resolution: A case study of Kinondoni Municipality, Tanzania. Unpublished Master's Thesis, University of Twente
Saruni, P. L., Urassa, J. K., & Kajembe, G. C. (2018). Forms and Drivers of Conflicts between Farmers and Pastoralists in Kilosa and Kiteto Districts, Tanzania. Journal of Agricultural Science and Technology A, 8, 333-349.
Tiwari, S., Lane, M., & Alam, K. (2019). Do social networking sites build and maintain social capital online in rural communities? Journal of Rural Studies, 66, 1-10.
URT - United Republic of Tanzania. (2012). Poverty and Human Development Report 2011.Urt: Dar Es Salaam United Nations (2012) Toolkit and Guidance for preventing and managing Land and Natural Resources conflict Interagency Framework Team for Preventive actions.
Wehrmann, B. (2008). Land conflicts: A practical guide to dealing with land disputes. Eschborn: GTZ.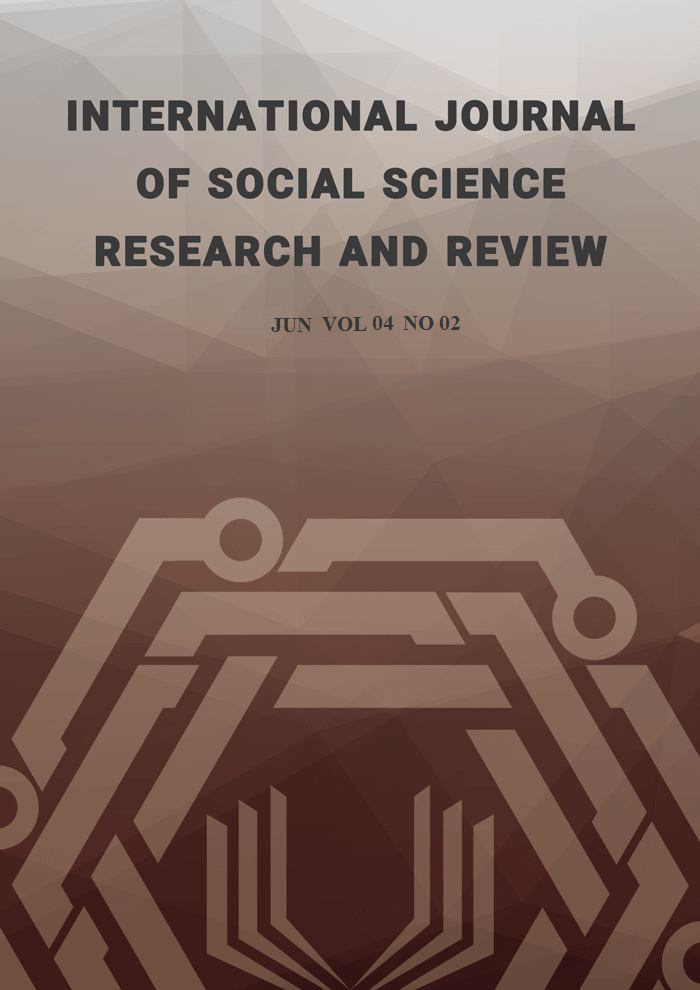 How to Cite
Mwaigombe, E., & Kashaga, F. (2021). The Role of Informal Land Dispute Settlement Mechanisms on Family Land Ownership in Tanzania: A Case Study of Mbeya District, Mbeya Region. International Journal of Social Science Research and Review, 4(2), 1-12. https://doi.org/10.47814/ijssrr.v4i2.87
This work is licensed under a Creative Commons Attribution-NonCommercial-NoDerivatives 4.0 International License.
Copyright for this article is retained by the author(s), with first publication rights granted to the journal. This is an open-access article distributed under the terms and conditions of the Creative Commons Attribution license (https://creativecommons.org/licenses/by-nc-nd/4.0/).