Does Awareness Matter for the Improved Community Health Fund? Evidence from Street Vendors in Dodoma City, Tanzania
Richard Msacky

Department of Business Administration, College of Business Education, Dodoma, Tanzania

Thadeus Mmassy

Department of Political Science and Public Administration, University of Dodoma, Dodoma, Tanzania
Keywords:
Awareness; Improved Community Health Fund; Health Services and Street Vendors
Abstract
Globally, countries are implementing pro-poor reforms to advance healthcare's accessibility to all people. The community health fund is part of the global strategies to attain universal health coverage and accessibility of healthcare services. Thus, the community health fund is cited as a possible strategy for granting access to basic healthcare services to the poor and workers in the informal sectors such as street vending without facing financial difficulties. The study was set to assess the awareness of the street vendors on the improved Community Health Fund in Dodoma City Tanzania. Data were collected using a questionnaire from a sample of 100 street vendors and focus group discussions (FGDs) from 24 participants from Dodoma City. Quantitative data were analysed descriptively while qualitative data involved thematic analysis of the recorded interactive discussions with the participants. The findings revealed that most street vendors were aware of the Improved Community Health Fund (iCHF). Similarly, the results showed that the level of awareness of the street vendors about the procedures for the registration and the benefits package was low. In the same breadth, the findings indicated that most street vendors had never attended sensitization seminars and training from CHF officials. The study concludes that the high level of awareness has not translated into high enrollment and registration of the street vendors to the improved CHF. Thus, the CHF management is called upon to provide education through radio and social media to raise the awareness of the street vendors about the benefits and registration procedures of the improved CHF.
References
Agosti, M., Andersson, I., Bringsen, A., & Janlov, A.-C. (2019). The importance of awareness, support and inner strength to balance everyday life: A qualitative study about women's experiences of a workplace health promotion program in human service organizations in Sweden. BMC Women's Health, 19(7). doi:10.1186/s12905-018-0704-z.
Amani, P., Hurtig, A.-K., Frumence , G., Kiwara, A., Goicole, I., & Sebastian, M. (2021). Health insurance and health system (un) responsiveness: a qualitative study with elderly in rural Tanzania. BMC, 21(1140). doi:10.1186/s12913-021-07144-2.
Amani, P., Tungu, M., Hurting, A.-k., Kiwara, A., Frumence, G., & Sebastian, M. (2020). Responsiveness of health care services towards the elderly in Tanzania: does health insurance make a difference? A cross-sectional study. International Journal for Equity in Health, 19(179). doi:10.1186/s12939-020-01270-9.
Asantemungu, R., & Maluka, S. (2020). An assessment of the implementation of the re-structured Community Health Fund in Gairo District in Tanzania. Tanzania Journal of Development Studies, 18(2), 27-41.
Balyer, A., & Ozcan, K. (2020). Teachers' perceptions on their awareness of social roles and efforts to perform these roles. South African Journal of Education, 40(2).
Beccles, R. (2014). Street vending in Ghana, a solution or a problem for development. M.A Dissertation: University of Kassel.
Bennett, S. (2004). The role of community health insurance within the healthcare financing system: A framework for analysis. Health policy and planning, 19(3), 147-158.
Carrin, G., & James, C. (2005). Social health insurance: Key factors affecting the transition towards universal coverage. International Social Security Review, 58(1), 45-64.
Carson, D., Gilmore, A., Perry, C., & Gronhaug, K. (2001). Qualitative marketing research. London: Sage.
Clarke, V., & Braun, V. (2013). Teaching thematic analysis: Overcoming challenges and developing strategies for effective learning. The Psychologist, 26(2), 120-123.
Dusek, G., Yurova, Y., & Ruppel, C. (2015). Using socail media and targeted snowball sampling to survey a hard to reach population: A case study. International Journal of Doctoral Studies, 10, 279-299.
Groth, K. (2004). On knowing who knows-an alternative approach to knowledge management. Stockholm: Royal Institute of Technology.
Jangati, Y. (2012). Awareness of health insurance in Andra Pradesh. International Journal of Scientific and Research Publications, 2(6).
Kagaigai, A., Anaeli, A., Mori, A., & Grepperud, S. (2021). Do household perceptions influence enrolment decisions into community-based health insurance scheme in Tanzania? BMC Health Services Research, 21(162). doi:10.1186/s12913-021-06167-z.
Kalolo, A., Gaulier, L., Radermacher, R., Srivastava, S., Meshack, M., & Allegri, M. (2021). Factors influencing variation in implementation outcomes of the redesigned community health fund in the Dodoma region of Tanzania: a mixed-methods study. BMC Public Health 21, 21(1). doi:10.1186/s12889-020-10013-y.
Kigume, R., & Maluka, S. (2021). The failure of the community-based health insurance schemes in Tanzania: Opening the black box of the implementation process. BMC Health Service Research, 21(646). doi:10.1186/s12913-021-06643-6.
Kirumirah, M., & Munishi, E. (2021). Characterizing street vendors in urban settings of Tanzania: Towards the sustainable solution to vendors' challenges. Applied Research Conference in Africa (pp. 245-261). Springer International Publishing.
Kristine , K., Nicola, C., & Langer, J. (2022). The Importance of Awareness, Acceptance, and Alignment With the Self: A Framework for Understanding Self-Connection. Europe's Journal of Psychology, 18(1), 120-131.
Levy, N. (2013). The importance of awareness. Australasian Journal of Philosophy, 211-229.
Macha, J., Kuwawenaruwa, A., Makawia, S., Mtei, G., & Borghi, J. (2014). Determinants of community health fund membership in Tanzania: a mixed methods analysis.. BMC health services research, 14(1), 1-11.
Meher, S., & Ghatole, P. (2020). A study of common health problems and utilization of healthcare facilities among self-employed street vendors of Chandrapur District of Maharashtra. International Journal of Community Medicine and Public Health, 7(7). doi:10.18203/2394-6040.ijcmph20203015.
Msacky, R., Kembo, B., Mpuya, G., Benaya, R., Sikato, L., & Ringo, L. (2017). Need assessment and available investment opportunity in the health sector: A case of Dodoma Tanzania. Business Education Journal, I(3), 1-7.
Mtei, G., & Mulligan, J.-A. (2007). Community Health Funds in Tanzania: A Literature review.
Ndomba, T., & Maluka, S. (2019). Uptake of community health fund: why is Mtwara Districtlagging behind? Journal of Global Health Sciences, 1(2), 1-11.
Pangu, K. (1997). The Bamako Initiave . New York: UNICEF.
Renggli, S., Mayumana, I., Mshana, C., Mboya, D., Kessy, F., Tediosi, F., . . . Lengeler, C. (2019). Looking at the bigger picture: how the wider health financing context affects the implementation of the Tanzanian Community Health Funds. Health Policy Plan, 34(1), 12-23. doi: 10.1093/heapol/czy091.
Rumanyika, J., Apiola, M., Mramba, N., Oyelere, S., Mramba, N., & Tedre, M. (2021). Mobile technology for street trading in Tanzania: A design. Wiley. doi:10.1002/isd2.12176.
Soors, W., Devadasan, N., Durairaj, V., & Criel, B. (2010). Community health insurance and universal coverage: Multiple paths, many rivers to cross. Geneva: WHO.
Tungu, M., Aman, J., Hurtig, A.-k., Kiwara, A., Mwangu, M., & Lindholm, L. (2020). Does health insurance contribute to improved utilization of health care services for the elderly in rural Tanzania? A cross-sectional study, 13(1). doi:10.1080/16549716.2020.1841962.
URT. (2001). The Community Health Fund Act. Dar Es Salaam: Tanzania Government Gazette.
URT. (2013). Population by age and sex. Dar-Es-Salaam: NBS.
URT. (2018a). Circular No. 1 on the restructuring of the Community Health Fund. Dodoma: PORALG.
URT. (2018b). Report of the 19th joint annual sector technical review meeting. Dodoma: MoHCDGEC.
Varbanova, V., & Beutels, P. (2020). Recent quantitatve research on determinants of health in high income countries: A scoping review. PLoS ONE, 15(9). doi:10.1371/journal.pone.0239031.
Walraven, G. (2019). The 2018 Astana Declaration on primary healthcare, is it useful? Journal of Global Health, 9(1). doi:10.7189/jogh.09.010313.
WHO. (1978). Declaration of Alma-Ata: International Conference on Primary Healthcare. Geneva: WHO.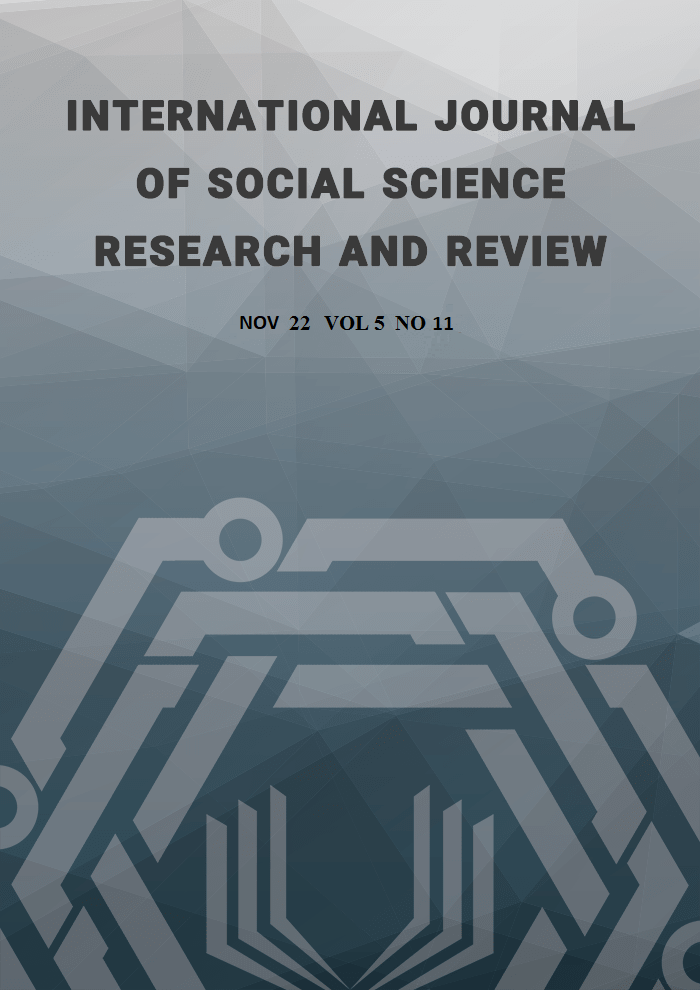 How to Cite
Msacky, R., & Mmassy, T. (2022). Does Awareness Matter for the Improved Community Health Fund? Evidence from Street Vendors in Dodoma City, Tanzania. International Journal of Social Science Research and Review, 5(11), 169-179. https://doi.org/10.47814/ijssrr.v5i11.720
This work is licensed under a Creative Commons Attribution-NonCommercial-NoDerivatives 4.0 International License.
Copyright for this article is retained by the author(s), with first publication rights granted to the journal. This is an open-access article distributed under the terms and conditions of the Creative Commons Attribution license (https://creativecommons.org/licenses/by-nc-nd/4.0/).