Does Ethnic Federalism imperative for Ethiopia? A critical Analysis
Ephrem Ahadu

Department of Civics and Ethical Studies, Wachemo University, Hosaena, Ethiopia

Desta Abebe

Department of Civics and Ethical Studies, Wachemo University, Hosaena, Ethiopia
Keywords:
Ethnic, Federalism, Ethiopia, Analysis, Important;, Constitution, FDRE
Abstract
One of the core principles instituted by the post-1991 government in Ethiopia that took power after a successful armed struggle was ethnic-based federalism, informed by a neo-Leninist political model called revolutionary democracy. The objective of this study is to analysis whether ethnic federalism is important for Ethiopia or not. The study used a qualitative approach. Interview was the main primary data collection method. The result of the study shows that there are competing claims, for and against federalism. The government architected the ethnic federalism system in which the country was divided into nine administrative constituents and two self-administrative cities with a full recognition of self-administration up to the right to secession. However, the practical implementation of the ethnic federalism system with the right to secession was not the right choice. Contradicting to its establishing goal, it generated and regenerated conflicts from the national to the lower local level of governance. Thus, ethnic conflicts prevailing in Ethiopia may be caused by such technicality problems and the ethnic federal arrangement in Ethiopia needs an urgent reconsideration before the case moves to the worst scenario.
References
Aalen, L. (2006). Ethnic federalism and self-determination for nationalities in a semi-authoritarian state: The case of Ethiopia. International Journal on Minority and Group Rights, 13(2–3), 243–261. https://doi.org/10.1163/157181106777909849
Abate, T. (2008). Ethnic-Based Politics in Ethiopia.
Abbink, J. (2012). Journal of Eastern African Studies Ethnic-based federalism and ethnicity in Ethiopia : reassessing the experiment after 20 years. Journal of Eastern African Studies, 5(4), 37–41. https://doi.org/http://dx.doi.org/10.1080/17531055.2011.642516
Abegaz, B. (2015). Ethiopian Statecraft and the Enigmatic Amara. Ethiomedia.Com, 1–5.
Alem Habtu; 2005; Multiethnic Federalism in Ethiopia: A Study of the Secession Clause in the Constitution, Vol. 35, No. 2 (spring, 2005), pp. 313-335, published by: Oxford University Press.
Alemante, G. Selassie 2003. Ethnic federalism: Its promise and pitfalls for Africa. The Yale Journal of International Law, 28 (51), pp. 51–107.
Andreas Eshete, 'Abuses and Uses of Cultural Diversity: African Past, Ethiopian Present': Keynote Addresses, in Equality and Unity in Diversity for Development; 5th Internation- al Conference on Federalism Addis Ababa, Ethiopia, 2010, pp. 36-46.
ANTENEH, A. (2014). ETHNICITY AND ITS IMPACT ON ECONOMIC DEVELOPMENT IN AFRICA: CASE STUDIES FROM ETHIOPIA AND NIGERIA.
Assefa Fiseha; "Ethiopia's Experiment in Accommodating Diversity: A Twenty Years Balance Sheet" in Ethiopian Journal of Federal Studies, Center for Federal Studies, College of Law and Governance Studies, Addis Ababa University; Vol. 1, No. 1, June, 2013 (pp. 103-154).
Bataveljić, D. (2012). Federalism : The Concept , Development and Future Faculty of Law University of Kragujevac Key words : International Journal of Humanities and Social Science, 2(24), 21–31.
Constitution. (1995). FDRE constitution-of-the-federal-democratic-republic of Ethiopia. Federal Negarit Gazeta OF THE FEDERAL DEMOCRATIC REPUBLIC OF ETHIOPIA, 1–38.
Ehrlich, C. (1999). Ethnicity And Constitutional Reform: The Case Of Ethiopia. ILSA Journal of International and Comparative Law, 6(1), 51–71.
Gudina M (2001) Ethnic nationalism and the attempt to democratize the multi-ethnic polity of Ethiopia, 1999-2000: A description and an analysis. Institute of Social Studies, The Hague: PhD thesis, unpublished.
Habtu, A. (2003). Ethnic federalism in Ethiopia: background, present conditions and fututre prospects. International Conference on African Development Archives, (August 2002), 11–12. https://doi.org/10.1017/CBO9781107415324.004
Halabo, T. T. (2016). Ethnic Federal System in Ethiopia: Origin, Ideology and Paradoxes. Inter. J. Polit. Sci. Develop, 4(January), 1–15. https://doi.org/10.14662/IJPSD2016.004
Kassa Tekleberhan, 2010; 'Opening Address'; in Equality and Unity in Diversity for Develop- ment, 5th International Conference on Federalism, Conference Highlights (ed. Alemu Habtu), Vol. 1: pp. 9-13.
Samatar, A. I. (2009). The Ethiopian Election of 2005: A Bombshell & Turning Point? Review of African Political Economy, 32(104), 1–9. https://doi.org/10.18860/ling.v5i1.609
Taye, B. A. (2016). Ethnic federalism and conflicts in Ethiopia. Canadian Journal of African Studies / Revue Canadienne Des Études Africaines, 50(2), 295–301. https://doi.org/10.1080/00083968.2015.1124580
Teshome Birru, D. (2018). Ethnic Federalism Implementation in Ethiopia: The Paradox. Journal of Political Sciences & Public Affairs, 06(04). https://doi.org/10.4172/2332-0761.1000350
Teshome, W. and J. Z., Journal, T. I., Studies, A. H., Diversity, E., Bednar, J., Beramendi, P., … Young, C. (2008). Weaknesses of Ethnic Federalism in Ethiopia. International Journal of Humanities and Social Science Invention, 5(11), 49–54. https://doi.org/10.1093/oxfordhb/9780199566020.003.0031
Tewfik, H. (2010). Transition to Federalism: the Ethiopian experience.
Twibell, A. (1999). Ethiopian Constitutional Law: The Structure of the Ethiopian Government and the New Constitution's Ability to Overcome Ethiopia's Problems. Loyola of Los Angeles International and Comparative Law Review, 21(3).
Vaughan, S. (2003). Ethnicity and Power in Ethiopia The University of Edinburgh.
Watts, R. L. (1966). Ethnic management and federalism in Africa : South Africa , Nigeria and Ethiopia in Comparative Perspective Publications : Unpublished Works : International Conferences : 1–2.
Working, I. F. F., & Online, P. (2017). IFF Working Paper Online No 22 EPRDF ' s State - building Approach : Responsive or Unresponsive ? 41(22), 1–13.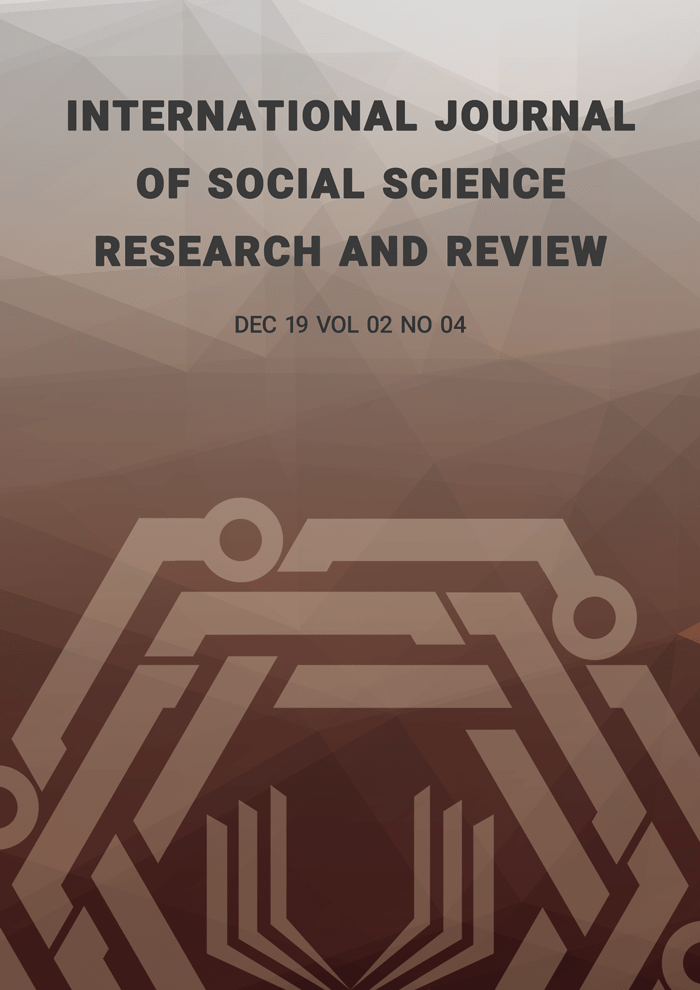 How to Cite
Ahadu, E., & Abebe, D. (2020). Does Ethnic Federalism imperative for Ethiopia? A critical Analysis. International Journal of Social Science Research and Review, 2(4), 18-32. Retrieved from https://ijssrr.com/journal/article/view/71
Copyright for this article is retained by the author(s), with first publication rights granted to the journal. This is an open-access article distributed under the terms and conditions of the Creative Commons Attribution license (https://creativecommons.org/licenses/by-nc-nd/4.0/).