Lexemes Expression in the Masnavi "Gulshan Ul-Asror" of Haydar Khorezmi
Nilufar Chorievna Tashmatova

Teacher, Tashkent State University of Uzbek Language and Literature named after Alisher Navoi, Tashkent, Uzbekistan
Keywords:
Turkish, Uzbek; Sughd; Uzbek; Sanskrit Masnavi; Chinese; Greek
Abstract
This article classifies and analyzes the assimilation words expressed in masnavi "Gulshan ul-asror" of Haydar Khorezmi's, one of the mature representatives of our classical literature, who lived and worked in Khorezm in the late XIV and early XV centuries. It is natural that the interaction, neighborliness and trade relations of peoples of different languages have an impact on the development of their languages, first of all, on their vocabulary. As a results, there are cases of exchange and assimilation. In general, it is expedient to analyze foreign words in the lexicon of Turkic languages by dividing them into two groups:1) ancient (pre-Islamic) period which Sanskrit, Sogdian and Chinese elements are specific;2) relatively new (Islamic and post-Mongol) period. This group includes Arabic, Persian-Tajik and Mongolian dialects. In this study, we examine the pre-Islamic state of the lexemes of the assimilation layer mentioned in the Masnavi. The emergence of Sugd, Sanskrit and Chinese assimilation words in the vocabulary of Turkic languages is assessed as a product of the close ties of the Turkic peoples with the Sughd, Indian, Chinese and Khorezm peoples since ancient times.
References
1. Yuldashev I. Uzbek bibliographic terminology. -T.: Science, 2004. p.209.
2. Begmatov E. Lexical layers of modern Uzbek literary language. -T.: Fan, 1985. -p.103.
3. Dadabaev H. Socio-political and socio-economic terminology in the Turkic-language written monuments of the XI-XIV centuries. -T.: Yozuvchi, 1991. -p.133-134.
4. Askarov A. Ethnogenesis and history of the Uzbek people. -T.: University, 2007.-p.62-63
5. Iskhakov M. Elementy sogdiyskogo yazyka v sovremennom uzbekskom yazyke // Istoriko-kulturnie kontakti narodov altayskoy obshchnosti: XXIX sesiya RIAC. -T.: 1986. II. Lingvistika. -M .: Nauka, 1986, -s.61-62.
6. Dadaboev H. Enrichment of the lexical structure of the Uzbek literary language at the expense of assimilations // Lectures of the traditional scientific-theoretical and practical-methodical conference of teachers of the Tashkent regional state pedagogical institute. -Angren, 2007. -p.337-342
7. Xo'jaev A. The Great Silk Road. -T.: National Encyclopedia of Uzbekistan, 2007.-p.91-92
8. Dadabaev H. Socio-political and socio-economic terminology in the Turkic-language written monuments of the XI-XIV centuries. -T.: Yozuvchi, 1991. -p.133-134.
9. Baskakov N.K. On the problem of Chinese borrowings in Turkic languages // Soviet Turkology, 1987.
10. Sodiqov Q. The language of Turkish written monuments: the emergence and restoration of the literary language. -T.: Tashkent State Institute of Oriental Studies, 2006.- p.181
11. Dadaboev H., Kholmurodova M. Annotated dictionary of words in "Kutadg'u bilig" in Uzbek, Russian and English. -T.: 2018. -p.293
12. Sulaymonova F. East and West. –T.: Uzbekistan, 1997. p.3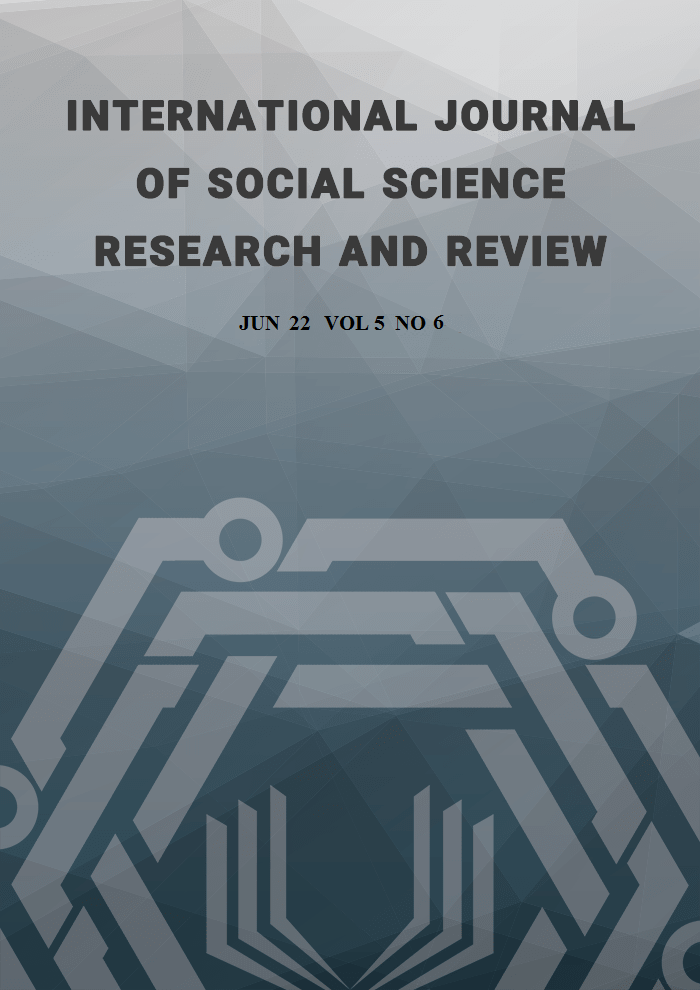 How to Cite
Tashmatova, N. C. (2022). Lexemes Expression in the Masnavi "Gulshan Ul-Asror" of Haydar Khorezmi. International Journal of Social Science Research and Review, 5(6), 192-196. https://doi.org/10.47814/ijssrr.v5i6.413
This work is licensed under a Creative Commons Attribution-NonCommercial-NoDerivatives 4.0 International License.
Copyright for this article is retained by the author(s), with first publication rights granted to the journal. This is an open-access article distributed under the terms and conditions of the Creative Commons Attribution license (https://creativecommons.org/licenses/by-nc-nd/4.0/).