Measures for Employee Engagement: Public Service in Sri Lanka
A.T. Wijesekera

Faculty of Management Studies and Commerce, University of Sri Jayewardenepura, Sri Lanka

R.Lalitha S. Fernando

Administrations, Faculty of Management Studies and Commerce, University of Sri Jayewardenepura, Sri Lanka
Keywords:
Employee Engagement, Pubic Service, Divisional Secretariats, Sri Lanka, Scale Development, UWES scale
Abstract
Employee engagement is crucial in the delivery of public service efficiently and effectively. Employee engagement is essential as a foundation for service climate (Salanova et al., 2005). Measuring employee engagement is vital to identify the areas to be improved to increase the service quality. The most accepted Utrecht Work Engagement Scale (UWES) is heavily applied to measure the employee engagement of Business to Customer (B2C) profit oriented organizations. Therefore, a customized measure for employee engagement is essential for public service. This paper describes the development of a customized scale based on UWES scale for assessing employee engagement in public service with reference to Divisional Secretariats in Sri Lanka. In developing and validating measures, qualitative and quantitative methods were utilized as recommended by Hinkin's (1998). Finally, a customized scale with 16-items was developed under vigor, dedication and absorption dimensions to measure the employee engagement of public service in Sri Lanka.
References
Bauer, H. H., Falk, T., Hammerschmidt, M., (2006). eTransQual: A transaction process-based approach for capturing service quality in online shopping. Journal of Business Research 59, 866-875.
Bowen, David E. and S. Schneider (2014) A Service Climate Synthesis and Future Research Agenda. Journal of Service Research 17(1):5-22. doi10.1177/1094670513491633.
Cole, M. S., Walter, F., Bedeian, A. G. and O'Boyle, E. H. (2012) Job burnout and employee engagement: A meta-analytic examination of construct proliferation. Journal of Management, 38, pp. 1550-1581. http://dx.doi.org/10.1177/0149206311415252.
Cowardin-Lee, N., & Soyalp, N. (2011). Improving organizational workflow with social network analysis and mployee engagement constructs. Consulting Psychology Journal: Practice and Research, 63(4), 272-283. http://dx.doi.org/10.1037/a0026754.
Field, A. (2009) Discovering Statistics using SPSS 3rd Edition. SAGE Publications Inc., p.648.
Flynn, B. B., Schroeder, R. G., & Sakakibara, S. (1994). A framework for quality management research and an associated measurement instrument. Journal of Operations Management, 11(4), 339-366. doi: 10.1016/S0272-6963(97)90004-8.
Fornell, C., Larcker, D.F., 1981. Evaluating structural equation models with unobservable variables and easurement error. Journal of Marketing Research 18 (1), 39-50. http://www.jstor.org/stable/3151312. doi: 10.2307/3151312.
Harter, J. K., Schmidt, F. L. and Hayes, T. L. (2002) Business-unit-level relationship between employee satisfaction, employee engagement, and business outcomes: A meta-analysis. Journal of Applied Psychology, 87, pp. 268-279. https://www.ncbi.nlm.nih.gov/pubmed/12002955.
Herath, H. M. A. (2008). Grassroot Institutions for Regional Development: Sri Lankan Experience. Vidyodaya J. of Humanities and Social Science, 2, 305-334.
Heres L. and Lasthuzen K., (2012) What's the difference? Ethical leadership in Public,Hybrid and Private sector organizations. Journal of change Management. Vol 12, No.4, 441-466.
https://doi.org/10.1080/14697017.2012.728768.
Hinkin, T. R. (1998). A brief tutorial on the development of measures for use in survey questionnaires. Organizational Research Methods, 1, 104−121.
http://journals.sagepub.com/doi/abs/10.1177/109442819800100106.
Iddagoda, A., Opatha, H.D.N.P & Gunawardana, K. (2016) Towards a Conceptualization and an Operationalization of the Construct of Employee Engagement. International Business Research Vol.9, No2;2016. http://dx.doi.org/10.5539/ibr.v9n2p85.
James, McKechnie, and Swanberg (2011) Predicting employee engagement in an age‐diverse retail workforce. Journal of Organizational Behavior. Pg 173-196. https://doi.org/10.1002/job.681.
Kahn, W. A. (1990) Psychological conditions of personal engagement and disengagement at work. The Academy of Management Journal, 33, pp. 692-724. https://engagementresearch.wikispaces.com/.../Kahn+(1990)
Lewis,R. C.,and Booms, H.B. (1983). The Marketing Aspects of Service Quality. In L.Berry, G. Shostack, andG.Upah (Eds.), Emerging Perspectives on Services Marketing (pp. 99-107). Chicago: American Marketing.
Likert, R. (1932). A technique for the measurement of attitudes. Archives of Psychology, 140, (eds) Woodworth, R.S., New York University.
Macey, W. H. and Schneider, B. (2008) The meaning of employee engagement. Industrial and Organizational Psychology, 1, pp. 3-30. https://doi.org/10.1111/j.1754-9434.2007.0002.x.
May, D.R., Gilson, R.L.and Harter, L.M. (2004) The psychological conditions of meaningfulness, safety and availability and the engagement of the human spirit at work. Journal of Occupational and Organizational Psychology, 77, pp. 11-37.
http://dx.doi.org/10.1348/096317904322915892.

Maslach, C. and Leiter, M. P. (1997). The truth about burnout: How organizations cause personal stress and what to do about it, San Francisco, CA, Jossey-Bass.
Nunnally Jr., J. C. (1970), Introduction to psychological measurement, New York: McGraw-Hill. Book Company. https://trove.nla.gov.au/version/25598505.
Rich, B. L., Lepine, J. A. and Crawford, E. R. (2010) Job engagement: Antecedents and effects on job performance. Academy of Management Journal, 53, pp. 617-635.
https://journals.aom.org/doi/10.5465/AMJ.2010.51468988.
Ranaweera H.M.B.P and School of Public Administration Department of Business Management, Rajarata University of Sri Lanka (2015), ICT Applications and Service Quality of Government service, International Journal of Economics, Commerce and Management, Vol. 3, Issue 1, Available at http//ijecm.co.uk/.
Rurkkhum, S. and Bartlett, K. R. (2012) The relationship between employee engagement and organizational citizenship behaviour in Thailand. Human Resource Development International, 15, pp. 157-174.doi: 10.1080/13678868.2012.664693.
Salanova, Marisa, Sonia Agut, and Jose´ M. Peiro´ (2005), ''Linking Organizational Resources and Work Engagement to Employee Performance and Customer Loyalty: The Mediation of Service Climate,'' Journal of Applied Psychology, 90 (6), 1217-1227. doi10.1037/0021-9010.90.6.1217.
Saks, A. M. (2006) Antecedents and consequences of employee engagement. Journal of Managerial Psychology, 21, pp. 600-619. https://doi.org/10.1108/02683940610690169.
Schaufeli, W. B., Salanova, M., Gonzalez-Roma, V. and Bakker, A. B. (2002) The measurement of engagement and burnout: A confirmatory factor analytic approach. Journal of Happiness Studies, 3, pp. 71-92. www.wilmarschaufeli.nl/publications/Schaufeli/178.pdf.
Schneider, Benjamin, William H. Macey, Karen M. Barbera, and Nigel Martin (2009a), ''Driving Customer Satisfaction and Financial Success through Employee Engagement,'' People and Strategy, 32 (2), 22-27.
Shuck, B., Reio, T. G. and Rocco, T. S. (2011) Employee engagement: An examination of antecedent and outcome variables. Human Resource Development International,14,pp.427-445.doi: 10.25148/etd.FI10080415.
Shuck, B. and Wollard, K. (2010) Employee engagement and HRD: A seminal review of the foundations. Human Resource Development Review, 9, pp. 89-110. http://journals.sagepub.com/doi/pdf/10.1177/1534484309353560.
Soane, E., Truss, C., Alfes, K., Shantz, A., Rees, C. and Gatenby, M. (2012) Development and application of a new measure of employee engagement: the ISA Engagement Scale. Human Resource Development International, 15, pp. doi:10.1080/13678868.2012.726542.
Wijesekera A.T. and Fernando R.L.S (2017) Scale for Measuring Perceived Service Quality of Public Service in Sri Lanka: With Special Reference to Divisional Secretariats in Gampaha District. Journal of Public Administration Research; Vol. 6, No. 2; 2017 Published by Canadian Center of Science and Education. doi:10.5539/par.v6n2p1.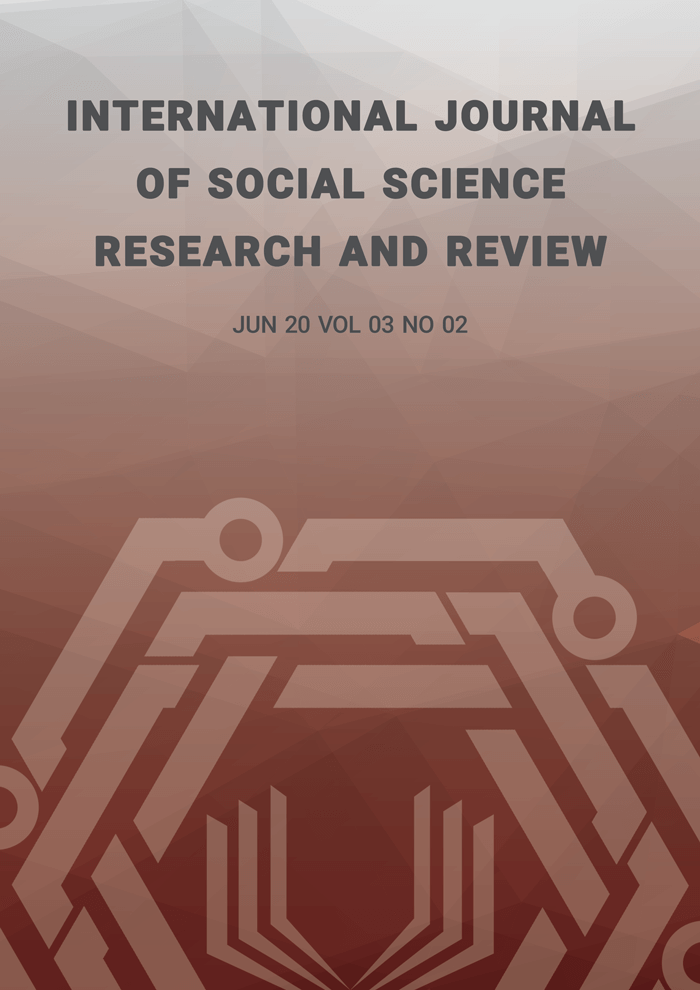 How to Cite
Wijesekera, A., & S. Fernando, R. (2020). Measures for Employee Engagement: Public Service in Sri Lanka. International Journal of Social Science Research and Review, 3(2), 30-45. https://doi.org/10.47814/ijssrr.v3i2.37
Copyright for this article is retained by the author(s), with first publication rights granted to the journal. This is an open-access article distributed under the terms and conditions of the Creative Commons Attribution license (https://creativecommons.org/licenses/by-nc-nd/4.0/).