Exploring the Decline of Agricultural Science Teachers in South African schools: A Case Study
Msawenkosi Sandile Mbokazi

Department of Education Professional Practice Unit, University of Zululand, South Africa

Lazarus Donald Mokula Lebeloane

Department of Science and Technology Education, University of South Africa, South Africa
Keywords:
Shortage; Agricultural Science; Teachers; Basic Education; Higher Education and Training; South Africa
Abstract
The Department of Basic Education in South Africa is experiencing a shortage of Agricultural Science teachers since their numbers are drastically decreasing. Several schools are failing to recruit appropriately qualified Agricultural Science teachers. This decline seems to be worsening annually. It is not peculiar to the Kwa-Zulu Natal Department of Education Kwa-Zulu Natal province only but seems to be a national phenomenon. This study aims to identify and analyse the causes of the decline of Agricultural Science teachers in the Provincial Department of Education. A qualitative method of research was employed. Data was collected by interviewing respondents on either cell phones or telephones. The findings revealed severe shortages of Agricultural Science teachers in Kwa-Zulu Natal schools. However, it is not peculiar to the Kwa-Zulu Natal Department of Education only, but it seems a national phenomenon. The study recommended, among other things, a clear line of the communication channel between the national Department of Basic Education, Kwa-Zulu Natal Department of Education and the Department of Higher Education and Training to facilitate at local, provincial and national levels, a comprehensive recruitment and training plan for the Department of Basic Education. The study also recommended the introduction of a Bachelor of Education degree with a specialisation in Agricultural Science in some universities, especially in rural areas.
References
Anders, J., Henderson, M., Moulton, V., & Sullivan, A. (2018) The role of schools in explaining individuals' subject choices at age 14, Oxford Review of Education, 44(1) 75-93. DOI: 10.1080/03054985.2018.1409973.
Badiru, I.O., Aluko, B & Adejumo, A.A. (2019). Teachers' Perception of the Effects of the New Education Curriculum on the Choice of Agriculture as a Career Among Secondary School Students in Oyo State, Journal of Agricultural & Food Information, 20:1, 86-95, DOI: https://doi.org/10.1080/10496505.2018.1531008.
Bergenske, L.D. (2012). Lesson study: implications of collaboration between education specialists and general education teachers- Masters of Arts thesis, Humboldt State University. Available on: http://humboldt-dspace.calstate.edu/bitstream.
Cohen, L., Manion, L., & Morrison, K. (2005). Research Methods in Education (5th ed). London and New York: Taylor and Francis Group.
Colaizzi, P. (1978). Psychological research as a phenomenologist views it. In: Valle, R. S. & King, M. (1978). Existential Phenomenological Alternatives for Psychology. Open University Press: New York.
Department of Agriculture, (DoA), (2005). Agricultural Education and Training (AET) strategy for agriculture and rural development in South Africa. Available from https://www.nda.agric.za/doaDev/sideMenu/educationAndTraining/AET_%20executivesummary.pdf, (Retrieved November 20 2021).
Department Basic Education (DBE), (2020). National Senior Certificate Examinations, 2020. School Subject Report. South Africa: Government Print. https://www.education.gov.za/Curriculum/NationalSeniorCertificate(NSC)Examinations (accessed November 20 2021).
Dlamini, N.F. (2017). Factors influencing the choice of Agriculture as a study discipline by undergraduates: A case study of a distance university's Agriculture Department. Unpublished Thesis, University of South Africa.
Garcia, E., & Weiss, E. (2019). The teacher shortage is real, significant, growing, and worse than we thought: The first report in the perfect storm in the teacher labour market series. Economic policy institute.
Hammett, D. (2008). Disrespecting teacher: The decline in the social standing of teachers in Cape Town, South Africa. International journal of educational development, 28(3),340-347. https://doi.org/10.1016/j.ijedudev.2007.05.007.
Ladd, H.F., & Sorensen, L.C. (2016). Returns to teacher experience: Student achievement and motivation in middle school." Education finance and policy 12(2),241–279. http://www.mitpressjournals.org/doi/pdf/10.1162/EDFP_a_00194.
Mbajiorgu, C.A., Oguttu, J.W., Maake, M.S., Heeralal, P.J.H., Ngoepe, M.G., Masafu, M.M & Kaino, L.M. (2014). Factors that Impact on the Teaching and Learning of Agriculture Science in FET Schools in Mpumalanga, South Africa: A Case of Mandlethu FET School, Journal of Human Ecology, 45:2, 137-145,
https://doi.org/10.1080/09709274.2014.11906687[accessed 14 March 2022].
Mlangeni, A.T., Chibaya, S.B., & Malinda, E.E. (2015). Investigating Agriculture teacher shortage in secondary schools in Malawi. Journal of Studies in Education, 5(2),224-238. http://dx.doi.org/10.5296/jse.v5i2.6682.
Morrow, R. (2013). A study to explore the lived experience of camping and associated effects of escapism: A green exercise approach. Masters' thesis, University of Huddersfield. http://eprints.hud.ac.uk/20328/1/rmorrowfinalthesis.pdf.
Morrow, R., Rodriguez, A., & King, N. (2014). Camping: a tool for relationship maintenance? International Journal of therapeutic communities, 35(2),48-55. https://doi.org/10.1108/TC-12-2013-0034.
Solomonson, J. 2017. Determining why agricultural educators are leaving the profession and how to increase the retention rate. Graduate Theses and Dissertation. 16218.
http://lib.dr.iastate.edu/etd/16218
South African Council of Educators, (2010). A review of teacher demand and supply: identifying research gaps and the role of SACE.
Sutcher, L., Darling-Hammond, L., & Carver-Thomas, D. (2016). A coming crisis in teaching? Teacher supply, demand, and shortages in the U.S. Palo Alto, CA
Welch, T., & Gultig, J. (2002). Becoming competent: Initiatives for the improvement of teacher education in South Africa 1995 to 2002. Presented to Pan-Commonwealth Conference, Durban, South Africa, July 2002. [Online]. Available at www.col.org/pcf2/papers/welch-pdf. [Retrived August 21 2021].
Waithera K.S. (2013). Challenges to teaching and learning of agriculture in secondary schools in Kakuyuni Division, Kangundo District, Machakos County, Kenya. Master of Education thesis (Curriculum Studies). Kenyatta University, Kenya.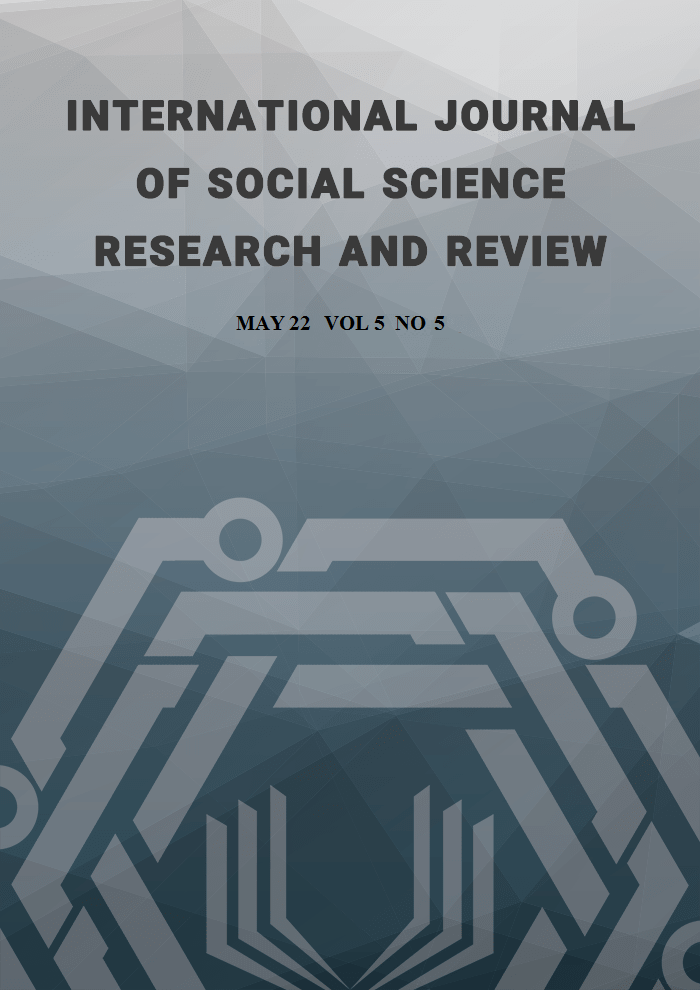 How to Cite
Mbokazi, M. S., & Mokula Lebeloane, L. D. (2022). Exploring the Decline of Agricultural Science Teachers in South African schools: A Case Study. International Journal of Social Science Research and Review, 5(5), 315-321. https://doi.org/10.47814/ijssrr.v5i5.315
Copyright (c) 2022 Msawenkosi Sandile Mbokazi, Lazarus Donald Mokula Lebeloane
This work is licensed under a Creative Commons Attribution-NonCommercial-NoDerivatives 4.0 International License.
Copyright for this article is retained by the author(s), with first publication rights granted to the journal. This is an open-access article distributed under the terms and conditions of the Creative Commons Attribution license (https://creativecommons.org/licenses/by-nc-nd/4.0/).