The Impact of Medical Malpractice on the Patient's Rights in the Context of South Africa
Khensanni Richard Chauke

Department of Public Administration, University of Limpopo, South Africa
Keywords:
Medical Malpractice; Malpractice; Patients; Rights; Patients' Rights
Abstract
The vast majority of accidents that take place in clinical settings are the direct consequence of unavoidable mistakes made by individuals operating within the confines of dysfunctional institutions. An increase in patient safety is the result of healthcare professionals' efforts to encourage blameless reporting and organisational learning. The fault-based civil liability law that inhibits more open discussion between physicians and patients about medical conditions is in opposition with this because of the aforementioned reason. When there is no universally accepted definition of the phrase medical error, litigation and, as a consequence, providing fast and sufficient financial compensation to patients may be rendered more difficult. In this aspect, the performance of no-fault systems is much superior. A dual-track liability system for medical malpractice may be the only option that may sufficiently safeguard patient rights. Despite the fact that it is complicated to create and difficult to administer, this system may be the only one. The objective of the study was to investigate the ways in which patients' legal rights might be affected by substandard medical treatment. In this study, a qualitative research approach was adopted, and primary and secondary sources of information were consulted.  The most significant conclusions from this study related to the significance of patients' rights being affected by medical malpractice. Patients are the ones who end up being victims of such practises, thus it makes sense that patients would be affected by such practises. It is for this reason that a high-quality health care system is desired, since it will both extend and improve the rights of patients.
References
Afrox Healthcare Bpk v Strydom (172/2001) [2002] ZASCA 73.
Baker T and Lytton TD.2010. Allowing patients to waive the right to sue for medical malpractice: A response to Thaler and Sunstein. Faculty Scholarship at Penn Law. Vol.104 No.1. 254.
Choice of Pregnancy Act 92 of 1996.
Constitution of the Republic of South Africa 1996.
Consumer Protection Act 68 of 2008.
Department of Health. Patient riths charter. Available at http://www.doh.gov.za/docs/legislation/patientright/chartere.html.
Department of Health. Patients' Rights Charter. Available at .
Dhai A. 2018. Health in crisis: A shameful disrespect of our Constitution. Vol.11 No.1 SAJBL 8.
Ebi EAO. 2016. Enforcing the right of access to healthcare services in South Africa. LLM unpublished. University of South.
Forman L. 2005. Ensuring reasonable health: Health right, the judiciary and South African HIV/AIDS policy. Journal of Law, Medicine and Ethics. Legislating and Litigating Health care rights around the world 711.
Gaede B and Versteeg M.2011. The State of the Right to Health in Rural South Africa. South African Human Rights Commission 99.
Goliath v MEC for Health, Eastern Cape 2015 (2) SA 97 (SCA);.
H v Fetal Assessment Centre 2015 (2) SA 193 (CC).
Harris B, Goudge JA, Ataguba JE, McIntyre D, Nxumalo N, Jikwana S and Chersich M. 2016. Inequities in access to health care in South Africa. Vol.32. No1. Journal of Public Health Policy 102.
Heywood M.2009. South Africa's Treatment Action Campaign: Combining Law and Social Mobilisation to Realise the Right to Health. Vol.1 No.1. Journal of Human Rights Practice. Oxford University Press 14.
Howarth G and Carstens P. 2014. Can private obstetric care be saved in South Africa?Vol.14 No.2. SAJBL 69.
Howarth G.2019. Avoiding malpractice litigation and defending claims of negligence. De Novo Medica.
Kavanagh MM. 2016. The Right to Health: Institutional Effects of Constitutional provisions of Health outcomes. St Comp Int Dev 328.
Links v MEC Department of Health, Northern Province 2016 (4) SA 414 (CC); H v Fetal Assessment Centre 2015 (2) SA 193 (CC).
Links v MEC Department of Health, Northern Province 2016 (4) SA 414 (CC);.
Mahlathi P and Dlamini J. 2015. Minimum Data Sets for Human Resources for Health and the Surgical workforce in South Africa Health System: A rapid analysis of stock and Migration. African Institute for Health and Leadership Development.
Maphumulo WT and Bhengu BR. 2019. Challenges of quality improvement in the healthcare of South Africa Post-Apartheid: A critical review. Open Access. Oasis 1.
Matumba RM. 2019. Medical Negligence as a Novus actus interveniens: An analysis of South African delictual jurisprudence unpublished LLM dissertation.
Moore W and Slabbert MN.2013. Medical Information Therapy and Medical Malpractice litigation in South Africa. Vol.6 No.2 SAJBL60.
MPS.2015). this is in line with challenging the cost that emanates from clinical negligence: The case of reform. 10 March 2015.
MPS.2015. Challenging the cost of clinical negligence: The case for reform. 1 Health 24. SA's shocking medical malpractice crisis1.
National Health Act 61 of 2003.
Nevhutalu HK. 2016. Patient's right in South Africa public health system: Moral-critical perspective. PhD unpublished dissertation. University of Stellenbosch (2016).
News 24, 10 February 2020. available at https://www.news24/southafrica/news/medical-negligence-claims-in-gauteng-have-increased-to-r29bn-da-20200210.
News24 "Medical negligence claims in Gauteng have increased to R29bn - DA".
Ngwena C. 2013. Scope and Limits of Judicialisation of the Constitutional Rights to Health in South Africa: An appraisal of key cases with particular reference to justiciability. Vol.14 No.2 R. Dir. Sanit Sao Paulo 43.
Opel v Department of Health, Western Cape 2016 (1) SA 325;.
Otto SF.2004. Medical Negligence Review Article. South African Journal of Radiology.
Oyebode F. 2013.Clinical errors and medical negligence. Medical principles and practice. Review. Karger Open access 323.
Patel B. 2008. Medical Negligence and res ipsa loquitur in South Africa. Vol.1 No.1 SAJBL 57.
Pepper MS and Slabbert MN. 2011. Is South Africa on the verge of medical malpractice litigation storm. Vol.4. No.1. SAJBL 29.
Pienaar CE.2011. An analysis of evidence –based medicine in the context of medical negligence. LLM unpublished dissertation University of Pretoria.
Pienaar, L. 2016. Investigates the reasons behind the increase in medical negligence claims. PERS/PELJ 2016 (19).
Pieterse M. 2010. Legislative and executive translation of right to have access to health services. Law, Democracy and Development.Vol.14.
Ranchod S, Adams C; Burger R, Carvounes A, Dreyer K, Smith A, Steward J and van.
Biljon C. 2017. South Africa's hospital sector: old divisions and new developments. South African Human Rights Commission. 20th Anniversary Edition.
South Africa Lancet National Commission.2019. Confronting the right to ethical and accountable quality health care in South Africa: A consensus report. National Department of Health. Pretoria.
South African Human Rights Commission. Access to health-care. 2018. The SAHRC 2018 national investigative hearing status of mental health care in South Africa report. SAHRC. Braamfontein. South Africa.
South African Lancet National Commission. 2019.Confronting the right to ethical and accountable quality healthcare in South Africa: A Consensus report. National Department of Health. Pretoria.
Taylor DW. 2015. Assessment and Plan for medical malpractice: Quality improvement through mediation. Spring Symposium DePaul Journal of Health Care Law. Vol.6 No.2. 343.
van Dokkum N. 1997. The evolution of medical malpractice law in South Africa. (1997) Vol.41 No. 2. Journal of African Law 175.
WHO. The right to health. 2008. Fact sheet No 31. World Health Organisation. United Nations. Geneva.
Williams A. 2018. Investigation into the factors contributing to malpractice litigation in nursing practice within the private healthcare sector of Gauteng. Master of Nursing Science unpublished dissertation. University of Stellenbosch.
World Health Organisation (WHO). 2015. A Rapid Analysis of Stock and Migration. African Institute for Health and Leadership Development.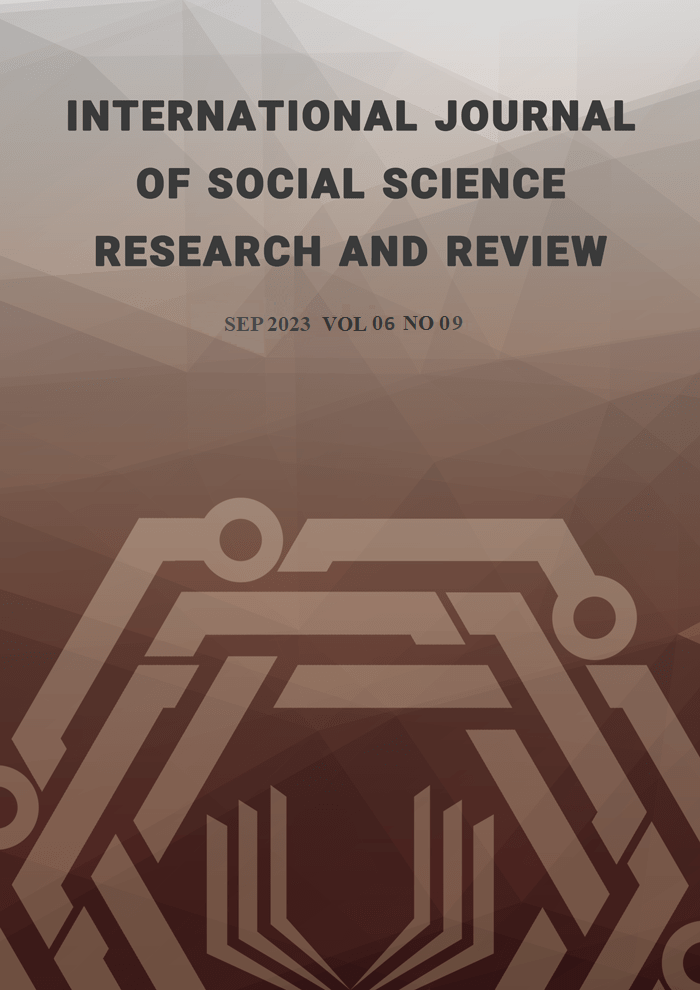 How to Cite
Richard Chauke, K. (2023). The Impact of Medical Malpractice on the Patient's Rights in the Context of South Africa. International Journal of Social Science Research and Review, 6(9), 6-16. https://doi.org/10.47814/ijssrr.v6i9.1590
This work is licensed under a Creative Commons Attribution-NonCommercial-NoDerivatives 4.0 International License.
Copyright for this article is retained by the author(s), with first publication rights granted to the journal. This is an open-access article distributed under the terms and conditions of the Creative Commons Attribution license (https://creativecommons.org/licenses/by-nc-nd/4.0/).