Indonesian Defense Industry Development Strategy as Responses of Cyber Threat to Support State Defense
Rustandi Wiramanggala

Indonesian Defense University, Indonesia

Khaerudin Khaerudin

Indonesian Defense University, Indonesia

Aries Sudiarso

Indonesian Defense University, Indonesia
Keywords:
Cyber Threat, Indonesian Defense Industry, Development Strategy, State Defense
Abstract
The condition of the Indonesian defense industry still has many shortcomings, but with the passage of time and a very dynamic strategic environment, the spectrum of threats is rapidly changing. Currently, where the development of information and communication technology is accelerating, cyber threats are the most dangerous threat, as well as for the Indonesian defense industry. Thus, Indonesia must determine attitudes and strategies in developing the defense industry in responding to cyber threats in order to support national defense. This study uses a qualitative method with a literature study approach. The theoretical framework in this research is the theory of development strategy, and the concept of cyber threats. The purpose of the defense industry development strategy in response to cyber threats is to find out the best efforts made by Indonesia using SWOT analysis. It was found that the best strategy in building Indonesian defense industry in responding to cyber threats is the development of the quality of Human Resources and an increase in the budget for research and development of defense industry and technology. This is because some of the obstacles faced are (1) the weak understanding of state administrators related to the cyberspace, and the weak competence of human resources related to soft skills that must be possessed, (2) the weak legal umbrella in handling attacks in the cyberspace. (3) the weakness of the research and development department of the Indonesian defense industry (4) the weakness of the industry in producing and developing hardware with information technology.
References
Aida, Ade Nurul. (2021). Tantangan Pengembangan Industri Pertahanan dalam Mendukung Sistem Pertahanan Negara. Politik dan Keamanan Budget Issue Brief Vol 01,Ed 8, hal. 1-2.

Applebaum, Jacob Von. (2015). NSA Preps America for Future Battle. Retrieved from https://www.spiegel.de/international/world/new-snowden-docs-indicatescope-of-nsa-preparations-for-cyber-battle-a-1013409.html. [29/10/21]

Boulanin,Vincent. (2013). Arms Production Goes Cyber: A Challenge for Arms Retrieved from Control. https://www.sipri.org/node/361. [29/10/21]

Brewster, Thomas. (2019). A Multimillionaire Surveillance Dealer Stepped Out of Shadow and His 9 Million Whatsappa Hacking Van. Retrieved from https://www.forbes.com/sites/thomasbrewster/2019/08/05/a-multimillionaire-surveillance-dealer-steps-out-of-the-shadows-and-his-9-million-whatsapp-hacking-van/?sh=79b1622731b7. [29/10/21]

Bendovschi, A. (2015). Cyber-attacks – trends, patterns, and security countermeasures. Procedia Economics and Finance. Doi: 10.1016/S2212-5671(15)01077-1 . [29/10/21]

Byrne, Edmund F. (2017). Arms Industry. Indiana University- Purdue University. Indianapolis: USA. Retrieved from https://philarchive.org/archive/BYRAI. [29/10/21]

CNN Indonesia. (2021). Situs BSSN Diduga Sudah Diretas Hampir Sepekan. Retrieved from https://www.cnnindonesia.com/teknologi/20211026073327-185-712307/situs-bssn-diduga-sudah-diretas-hampir-sepekan. [29/10/21]

Creswell, J. W. (2013). Research design: pendekatan kualitatif, kuantitatif, dan mixed. Yogyakarta: PT Pustaka Pelajar.

Dinas Komunikasi dan Informatika Kabupaten Karo. (2021). Strategi Pembangunan. Retrieved from https://www.karokab.go.id/id/profil/strategi-pembangunan. [29/10/21]

Edu, Heylaw. (2021). Pertahanan Siber di Indonesia: Meneropong Tantangan dan Upaya yang Dilakukan. Retrieved from https://heylawedu.id/blog/pertahanan-siber-di-indonesia-meneropong-tantangan-dan-upaya-yang-dilakukan. [29/10/21]

Kovacevic, A., & Nikolic, D. (2015). Cyber-attacks on critical infrastructure: Review and challenges. Handbook of Research on Digital Crime, Cyberspace Security, and Information Assurance. Doi: 10.4018/978-1-4666-6324-4.ch001. [29/10/21]

Lineberger, Robin., Faver, Alan D., Gallagher, Kevin., and Lucy, Jefferey. (2019). Cybersecurity in The Defense Industrial Base: Evolving Cybersecurity Regulations for Defense Contractors. Retrieved from https://www2.deloitte.com/us/en/pages/manufacturing/articles/cybersecurity-in-defense.html. [29/10/21]

Nurdin, Ismail and Hartati, Sri. (2019). Metodologi Penelitian Sosial. Surabaya: Media Sahabat Surabaya.

Sharma, Sanjana. (2017). Cyber security for the defence industry. Retrieved from https://www.cybersecurity-review.com/industry-perspective/cyber-security-for-the-defence-industry/. [29/10/21]

Tabansky, L. (2011). Critical infrastructure protection against cyber threats. Military and Strategic Affairs, 3 (2). Diambil dari: https://www.inss.org.il/wp-content/uploads/sites/2/systemfiles/(FILE)1326273687.pdf.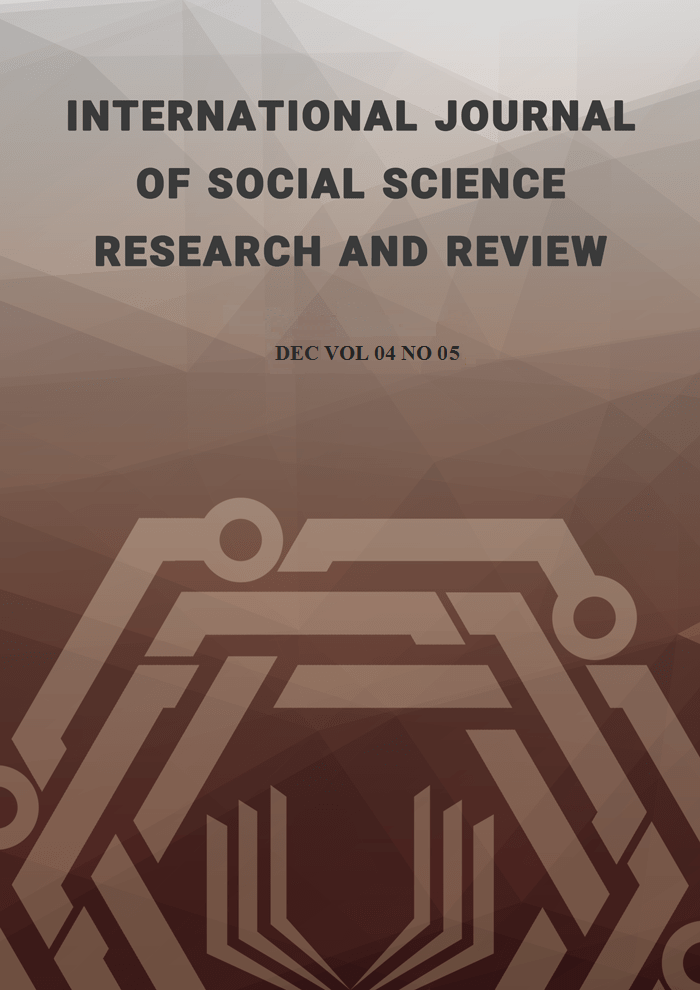 How to Cite
Wiramanggala, R., Khaerudin, K., & Sudiarso, A. (2021). Indonesian Defense Industry Development Strategy as Responses of Cyber Threat to Support State Defense. International Journal of Social Science Research and Review, 4(5), 18-25. https://doi.org/10.47814/ijssrr.v4i5.140
This work is licensed under a Creative Commons Attribution-NonCommercial-NoDerivatives 4.0 International License.
Copyright for this article is retained by the author(s), with first publication rights granted to the journal. This is an open-access article distributed under the terms and conditions of the Creative Commons Attribution license (https://creativecommons.org/licenses/by-nc-nd/4.0/).