An Exploration of the Effectiveness of Professional Bodies Operating in South African Municipalities
Mpilo Ngubane

Independent Researcher, Doctor of Administration from University of KwaZulu-Natal and Doctor of Public Administration from University of Zululand, South Africa
Keywords:
Professionalization; Professional Bodies; Professions; Continuous Learning and Development (CPD); Code of Ethics; Effectiveness
Abstract
Public service, in general, is marred with a lot of dissatisfaction from service users and this has inevitably culminated into public protests. Members of the public and service users are beginning to question competencies and capabilities of the officials who are responsible for the provision of services. Whilst it is true that there are public servants who do not qualify for positions they are occupying, it is also true that there are officials who meet the qualification requirements but simply cannot perform in their jobs simply because of laziness and or lack of professionalism. The latter has also led to questions being asked about the role of professional bodies in supporting the provision of public services. South Africa has recently seen a spike in public protests for services especially in the local government sector (municipalities). It is for this reason that the study explored the effectiveness of professional bodies operating in South African municipalities. The study employed the qualitative research method wherein interviews were conducted as data collection instrument. A sample of senior managers was selected across South African municipalities who then responded to questions about professional bodies. It became evident from the study that there is a need for professional bodies to play an even bigger role in collaboration with municipalities to professionalize the local government sector. The study therefore recommends various options in which professional bodies can collaborate with municipalities.
References
Alshenqeeti, H. (2014). Interviewing as a Data Collection Method: A Critical Review. English Linguistics Research, 3(1), 1-7.
Berg, B. L. (2007). Qualitative research methods for the social sciences. London: Pearson.
Charmaz, K. (1983). 'The grounded theory method: An explication and interpretation', in R.M. Emerson (ed). Contemporary Field Research, Boston Mass: Little, Brown.
Cohen, L., Manion, L & Morrison, K. (2007). Research Methods in Education (6th Ed.). London: Routledge.
Creswell, J. W. (2009). Research Design: Qualitative, Quantitative, and Mixed Methods Approaches (3rd Ed.). Thousand Okas, CA: Sage.
Dandago, K. I. & Subhi, M. (2013). "Impact of Malaysian Institute of Accountants' Certification on the Practice of Accounting in Malyasia", International Journal of Academic Research in Business and Social Sciences, 3(3), 214-224.
DiCicco-Bloom, B. & Crabtree, B. F. (2006). The qualitative research interview. Medical Education, 40(4), 314-321.
Dornyei, Z. (2007). Research Methods in Applied Linguistics: Quantitative, Qualitative and Mixed Methodologies, Oxford: Oxford University Press.
Eraut, M. & Cole, G. (1993). Assessing competence in the profession. Sheffield, Employment Department.
Fusco, N. M., Prescott, G. M. & Prescott, W. A. (2015). Currents in Pharmacy Teaching and Learning, 7(1), 117-120.
Green, B. (2015). Understanding the value of professionals and professional bodies.
Henczel, S. (2013). "Professionalism: Exploring the role and responsibility of our professional associations" in LIANZA Conference, Hamilton, New Zealand.
Higher Education Better Regulation Group (HEBRG) (2011). Professional, statutory and regulatory bodies: An exploration of their engagement with higher education. Universities UK: London.
Morse, J.M. (1994). Designing funded qualitative research. In Denizon, N. K. & Lincoln, Y. S. Handbook of qualitative research (2nd Ed.). Thousand Oaks, CA: Sage Publications.
Naidoo, S. & Rajcoomar, A. (2020). Towards Management Excellence: The Case of South African Professional Bodies. South African Journal of Industrial Engineering, 31(2), 62-75.
Paisey, C. % Paisey, N. J. (2018). Protecting the public interest? Continuing professional development policies and role-profession conflict in accountancy. Critical Perspectives on Accounting.
Pak Yean, C. & Lee Gan, G. (2015). Role of Professional Bodies in Professional Governance – The CMEP Example. Medical Ethics, Singapore: CMEP.
South Africa (Republic). National Qualifications Framework Act, Act 67 of 2008. Pretoria: Government Printers.
South African Qualifications Authority (SAQA) (2018). South African Qualifications Authority Framework. Pretoria: SAQA.
Stoltz-Urban, C. & Govender, K. K. (2014). "The Role of Professional Associations in the South African Education and Training System", Journal of Social Science, 41(2), 201-298.
Stuckey, H. L. (2013). Three types of interviews: Qualitative research methods in Social Health. Journal of Social Health and Diabetes, 10(1), 1-17.
The Chartered Institute of Building (CIOB) (2015). Continuing Professional Development. Brackwell.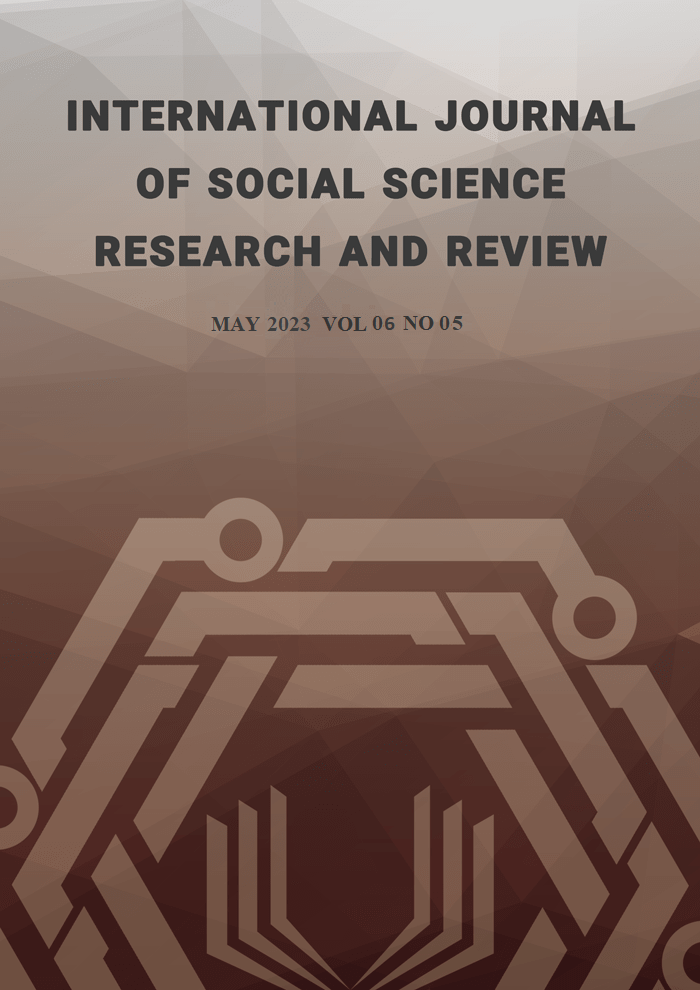 How to Cite
Ngubane, M. (2023). An Exploration of the Effectiveness of Professional Bodies Operating in South African Municipalities. International Journal of Social Science Research and Review, 6(5), 359-371. https://doi.org/10.47814/ijssrr.v6i5.1277
This work is licensed under a Creative Commons Attribution-NonCommercial-NoDerivatives 4.0 International License.
Copyright for this article is retained by the author(s), with first publication rights granted to the journal. This is an open-access article distributed under the terms and conditions of the Creative Commons Attribution license (https://creativecommons.org/licenses/by-nc-nd/4.0/).