Militarization and State Terrorism: A Critical Study of Nigerian Military Security Approach
Opeoluwa Adisa Oluyemi

Lecturer in the Department of Politics and International Relations, Near East University, Turkey
Keywords:
State Terrorism; Militarization; Critical Terrorism (CTS); ENDSARS Protest; Military Security; Counterterrorism
Abstract
The renaissance of state terrorism ascribing to the advent of Critical Terrorism Studies (CTS) is a cognizable motivation to study the outcome of military security approach of African democratic states. Nigeria, as one of the liberal democratic states in Africa has prioritized military solutions to internal insecurities over other alternative soft approaches attesting to its high level of militarization. The basic tenet of state terrorism connotes the fact that terrorist attacks perpetrated by non-state actors are not in anyways different from that of terrorist killings orchestrated by state security forces, an argument that is abutment to the legality of holding some liberal democratic governments accountable for their terrorist crimes. The sanctity afforded to state as a possible perpetrator of terrorism has allowed many African governments through their militarized security approaches to violate human rights of their citizens under the umbrella of combating terrorists, insurgents and suppressing uprisings in their countries. This research paper methodologically employs relevant secondary sources of data to inculpate various human rights violations and civilian casualties that perpetually accompany the involvement of military or paramilitary forces in internal security of Nigeria as a depiction of state terrorism expounded by CTS. Cases of civilian casualties during military operations to combat terrorism, Niger Delta militants and clampdown of ENDSARS protests are examined to demystify the qualifiedness of the Nigerian state terrorism.
References
Adebanjoko, A. A., & Asu, O. T. (2013). An assessment of the Niger—Delta Crisis and Nigeria's External Relations From 1992-2008. International Journal of Humanities and Social Science, 3(8), 180–183.
Agbiboa, D. E. (2017). Borders that Continue to Bother Us: The Politics of Border Security Cooperation in Africa's Lake Chad Basin. Commonwealth & Comparative Politics, 55 (4): 403–425. doi:10.1080/14662043.2017.1312730.
Aghedo, I. & Osumah, O. (2014). Insurgency in Nigeria: A Comparative Study of Niger Delta and Boko Haram Uprisings, Journal of Asian and African Studies, 50, p.7
Amnesty International (2019). Human Rights in Africa. Available at: https://www.amnistia.pt/wp-content/uploads/2020/04/ReportAfrica2019.pdf Accessed on 22, February 2023
Amnesty International (2020). Nigeria: Time to End Impunity, Torture and Other Violations by Special Anti-Robbery Squad (SARS). Abuja: Amnesty International. Available at https://www.amnesty.org/en/documents/afr44/9505/2020/en/ Accessed on February 20, 2023.
Atta, F.K. (2022): Understanding Africa's Terrorism Debacle: A Critical Analysis of Counterterrorism in Burkina Faso. Critical Studies on Terrorism, 16. doi:10.1080/17539153.2022.2121365
Bakker, E. (2015). Terrorism and Counterterrorism studies: Comparing Theory and Practice. Leiden: University Press.
Benvenisti, E. (2008). United we Stand: National Courts Reviewing Counterterrorism Measures, In Bianchi, Andrea, and Alexis Keller (Ed), Counterterrorism: Democracy's Challenge, 251-276. USA: Heart Publishing.
Blakeley, R., (2007). Bringing the State back into Terrorism Studies. European Political Science, 6(3): 228–235.
Bonga, W.G & Mahuku, D.N (2022). Effect of Militarization on Development and Democracy in Africa. Journal of Development Economics and Management Research Studies (JDMS), ISSN 2582 5119 (Online), 9 (11), 43-54.
Chiluwa, I. (2011). Media Representation of Nigeria's Joint Military Task Force in the Niger Delta Crisis. International Journal of Humanities and Social Science, 1(9), 197–208.
Chukwuma, K.H., (2022) Critical Terrorism Studies and Post-Colonialism: Constructing Ungoverned Spaces in Counter-Terrorism Discourse in Nigeria. Critical Studies on Terrorism, 15:2, 399-416, doi: 10.1080/17539153.2022.2048990
Dode, R. O., (2012). Nigerian Security Forces and the Management of Internal Conflict in the Niger Delta: Challenges of Human security and Development. European Journal of Sustainable Development, 1(3), 415–416.
Etim, E; Duke, O; Fatile, J & Akah, A.U. (2022). Protest Policing Strategy and Human Rights: A Study of End SARS Protests in Nigeria. African Security Review, 31:2, 226-239, doi:10.1080/10246029.2022.2075708
Fayemi J.K (1998).The Future of Demilitarization and Civil Military Relations in West Africa: Challenges and Prospects for Democratic Consolidation. African Journal of Political Science, 3(1), 82-103
Grasa, R. & Mateos, O., (2010). Conflict, Peace and Security in Africa: an Assessment and New Questions after 50 Years of African Independence. ICIP Working Papers: 2010/08. Available at: file:///C:/Users/Ben/Downloads/Dialnet-o5565252.pdft
Ikelegbe, A. (2005). The Economy of Conflict in the Oil Rich Niger Delta Region of Nigeria. Nordic Journal of African Studies, 14(2), 208–234.
Iwuoha, V.C & Aniche E.T (2021). Protests and Blood on the Streets: Repressive State, Police Brutality and #EndSARS Protest in Nigeria. Security Journal, 1103-1115 doi.org/10.1057/s41284-021-00316-z
Jackson, R. (2005). "Security, Democracy, and the Rhetoric of Counter-terrorism." Democracy and Security 1 (2): 147–171. doi:10.1080/17419160500322517.
Jackson, R. (2007). Language, Policy and the Construction of a Torture Culture in the War on Terrorism. Review of International Studies, 33 (3): 353–371. doi:10.1017/S0260210507007553.
Jackson, R., (2009). "Knowledge, Power and Politics in the Study of Political Terrorism," in Jackson, R., Breen Smyth, M. & Gunning, J., eds., Critical Terrorism Studies: A New Research Agenda, London: Routledge, pp. 66–83.
Jakniunaite, D. (2014). Critical Security Studies in the 21st Century: Any Directions for Lithuanian Security Studies? Lithuanian Annual Strategic Review, 12, p.36-37
Jarvis, L., (2009). The Spaces and Faces of Critical Terrorism Studies. Security Dialogue, 40(1): 5–27.
Kingsley, A.N (2019). Counter-Insurgency and Human Rights Violations in Nigeria. Journal of Law, Policy and Globalization, 85, doi: 10.7176/JLPG
Luqman, S. (2011). Managing Nigeria's Niger Delta Crisis under Democratic Rule. African Security Review. 20(3), 37-39 dx.doi.org/10.1080/10246029.2011.614059
Maiangwa, J. (2014). The Concept of Terrorism in Africa, Kaduna-Nigeria: Pyla-mak Publishing.
Musa, S.Y & Heinecken, L. (2022). The Effect of Military (Un)professionalism on Civil-Military Relations and Security in Nigeria. African Security Review, 31:2, 157-160, doi: 10.1080/10246029.2021.2014917
Obi, C. (2007). Democratizing Nigerian Politics: Transcending the Shadows of Militarism. Review of African Political Economy, 34(112), 379–384.
Oluyemi A.O (2018). Implications of Using the Military and Para-military Forces for Securitizing Nigerian Insecurities: The Case of Niger Delta Crisis. American International Journal of Social Science, 7 (3), 46-56
Oluyemi, O.A. (2020). The Military Dimension of Niger Delta Crisis and Its Implications on Nigeria's National Security. SAGE Open. 10(2), p.1-11. doi: 10.1177/2158244020922895
Oluyemi, O.A (2022). Suggestible Consequences of Militarizing Self-Determination Movements in Nigeria: A Case Study of Yoruba Separatist Movement. Journal of Humanities and Social Sciences Studies, 250. doi:10.32996/jhsss
Omilusi, M. (2015). From Civil Rule to Militarized Democracy: Emerging Template for Governance. International Journal of Politics and Good Governance, VI(6.2), 9–13.
Onuoha, F. C. 2010. The Islamist Challenge: Nigeria's Boko Haram Crisis Explained. African Security Review 19 (2): 54–67. doi:10.1080/10246029.2010.503061.
Sampson, I.T. (2015). Between Boko Haram and the Joint Task Force: Assessing the Dilemma of Counter-Terrorism and Human Rights in Northern Nigeria. Journal of African Law, 59, pp 27, 53-55 doi:10.1017/S0021855314000217
Theophilus (2012). "White paper on insecurity: Report links Boko Haram with London Scholar" (3 June 2012) Sunday Trust at 6–8, available at: http://www.dailytrust.com.ng/sunday/index.php/top-stories/11938-white-paper-on-insecurity-report-links-boko-haramwith-london-scholar. Accessed 17 February 2023.
Ugwueze, I. M., & Onuoha, F. C. (2020). Hard versus Soft Measures to Security: Explaining the Failure of Counter-terrorism Strategy in Nigeria. Journal of Applied Security Research, 15 (4): 547–567. doi:10.1080/19361610.2020.1811936.
Walter, E., (1969). Terror and Resistance, Oxford. Oxford University Press.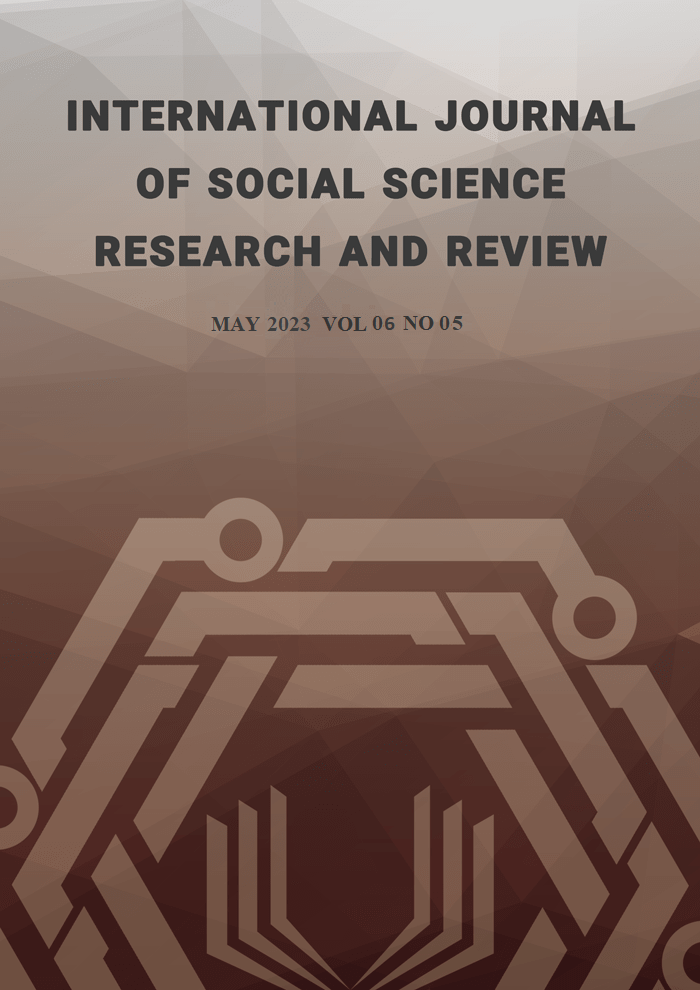 How to Cite
Adisa Oluyemi, O. (2023). Militarization and State Terrorism: A Critical Study of Nigerian Military Security Approach. International Journal of Social Science Research and Review, 6(5), 296-307. https://doi.org/10.47814/ijssrr.v6i5.1271
This work is licensed under a Creative Commons Attribution-NonCommercial-NoDerivatives 4.0 International License.
Copyright for this article is retained by the author(s), with first publication rights granted to the journal. This is an open-access article distributed under the terms and conditions of the Creative Commons Attribution license (https://creativecommons.org/licenses/by-nc-nd/4.0/).