Analyzing Factors Inhibiting the Growth of the Church According to the Apostles and Their Relevance to the Challenges of the Church Today
Enny Irawati

STT Biblika Jakarta
Keywords:
Inhibitors of Church Growth
Abstract
Church growth is a phenomenon that is very commonly discussed by people, especially in the Christian world. Often church growth is seen from the quantity (the number of congregations growing rapidly and many) without regard to the quality of the congregation. Although the Bible does not specifically talk about church growth, the principle of church growth is understood in the words of Jesus "I will build my church and the gates of hell will not overpower it", (Matt. 16:18), the church can live and grow even though the number of membership / attendance do not change. According to Rick Warren, healthy church growth is multi-dimensional growth, namely a church that grows closer to each other through fellowship, grows more earnestly through discipleship, and grows stronger through worship (Waren, 2019). He further said that the growth of the church is the result of a healthy natural where the preaching of the Bible and the mission carried out are balanced. In the church there are factors that inhibit church growth, namely: quantitative factors, qualitative factors, organic factors, historical trauma factors, theological misunderstanding factors, religious factors. For this reason, the Church must experience changes in dealing with any situation and influence the world. The church can not only rotate in one place. The church must make a difficult change, namely by preaching the gospel of salvation to those in need, in order to be saved. The church must make new breakthroughs in an increasingly changing world.
References
Amri, Allah Sudah Pilihkan Buat Saya..., 14; Bnd. Yohanes D. Mansur, "To Give an Answer to Every Man: Trinitarian and Christological Views in The Apologetics of Hamran Amri of Indonesia" dalam Tesis Master of Theology, Los Angeles: Bible University, 1990.
Artanto Widi, Gereja dan Misi-Nya, Yayasan Taman Pustaka Kristen Indonesia, Jl.dr. Wahidin sudiroshusodo, No.38A, Yogyakarta, 2015.
Bnd. Chris Marantika, Pertumbuhan Gereja Secara Alkitab dan Theologis Jakarta: Panitia PG, 1989.
Bnd. Jim Stevens dan Ron Jenson, Dimanika pertumbuhan gereja,Malang,jawa timur Gandum Mas, 1996.
Bnd. Peter Wagner, Penanaman Gereja untuk Tuaian yang Lebih Besar, Malang: Gandum Mas, Missio Ecclesiae, 1(1), Oktober 2012.
Firman Panjaitan dan Cristine Veronica Dawan, kasih setia, anggota IKAPI, JL. Kenanga No.164 sambilegi gunung kidul, Manguwoharja, sleman, Yogyakarta, 2018.
Gember Vergil, Pedoman Pertumbuhan Gereja/penginjlan ,Bandung: Yayasan Kalam Hidup, 1973.
Griffiths Michael, Gereja dan Panggilan Masa Kini Jakarta: BPK Gunung Mulia.
Lumintong Indra Stevri, Theologi Kepemimpinan kristen, Jakarta: Geneva Insani Indonesia, 2015.
Panjaitan, F. (2020). KASIH SETIA (KHESED)(HOSEA 6: 4-6).
Saptono, Y. J. (2019). Pentingnya Penginjilan Dalam Pertumbuhan Gereja. DIEGESIS: Jurnal Teologi Kharismatika, 2(1), 12-24.
Setiawan Eko David, Dampak Injil bagi transpormasi Spritual dan sosial, Sekolah Tinggi Teologi Tawangmangu, 2019.
Setiawan Eko David, Jurnal Teologi dan pendidikan kontekstual, volum 2, 2019.
Simamora G. Ranto, misi kemanusiaan dan globalisasi, Ink Media, Jl. Lengkong kecil 40c Bandung, 2006.
Takaliuang, M. P. (2012). Faktor-Faktor Penghambat Dan Penunjang Pertumbuhan Gereja. Missio Ecclesiae, 1(1), 103-129.
Warren Rick. The purpose of Chruch, Malang:Gandum Mas, 2019.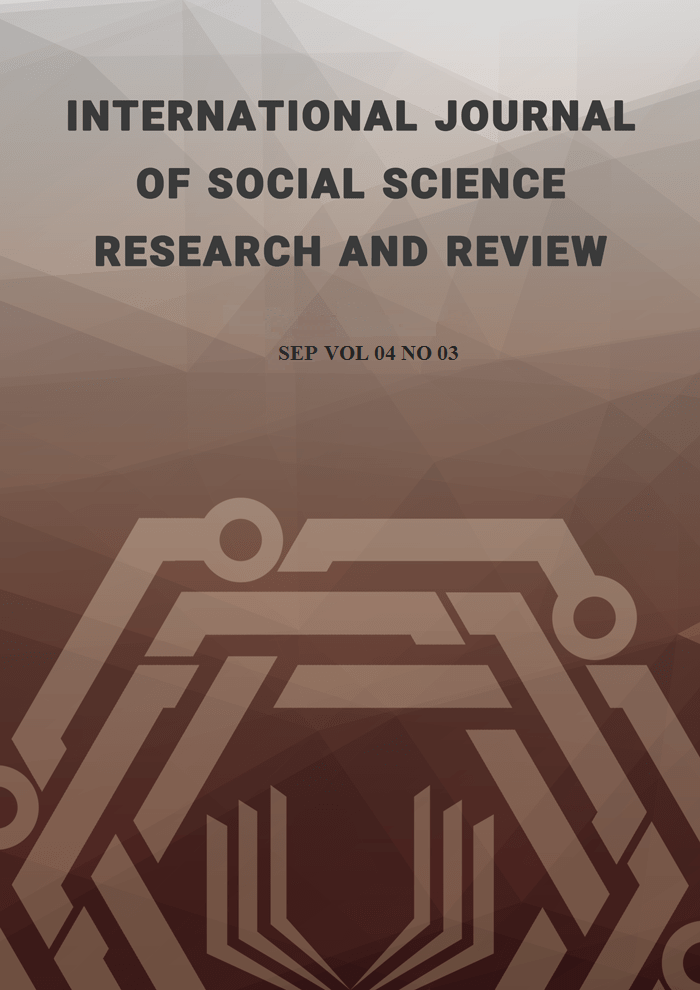 How to Cite
Irawati, E. (2021). Analyzing Factors Inhibiting the Growth of the Church According to the Apostles and Their Relevance to the Challenges of the Church Today. International Journal of Social Science Research and Review, 4(3), 75-82. https://doi.org/10.47814/ijssrr.v4i3.114
This work is licensed under a Creative Commons Attribution-NonCommercial-NoDerivatives 4.0 International License.
Copyright for this article is retained by the author(s), with first publication rights granted to the journal. This is an open-access article distributed under the terms and conditions of the Creative Commons Attribution license (https://creativecommons.org/licenses/by-nc-nd/4.0/).