Analysis of Buying and Selling Land in Production Forest Areas in the Tampo Sub-District, Napabalano Sub-District, and Muna District
Wiradista Nugraha

Master of Notary, Faculty of Law, Diponegoro University, Indonesia

Muh. Afif Mahfud

Master of Notary, Faculty of Law, Diponegoro University, Indonesia
Keywords:
Legal protection; Responsibility; Dispute Resolution
Abstract
This research aims to find out the legal protection for land buyers of well-intentioned production forest areas in Tampo Village napabalano district of Muna regency that is done under the hands and to find out the legal efforts that can be done by buyers against land sellers of production forest areas in Tampo Village Napabalano District Muna Regency. This type of research is Empirical research. In this study using secondary data and primary data Data collection techniques in empirical legal research there are 3 (three) techniques used, either individually or separately or used together at the same time in order to get conclusions, the research location is located in the Kelurahan Tampo Napabalano District, Muna Regency and used descriptive qualitative analysis. The results showed that: (1) Legal protection of good faith land buyers harmed by the seller of regional land is to compensate for losses experienced by land buyers in the form of refunds on purchase prices, return on results, costs incurred in connection with buyer lawsuits, changes in costs, losses, and interest and costs related to purchases. (2) The choice of resolving land buyer disputes with land sellers of production forest areas in Tampo Village is carried out of court through consensus deliberation with dispute resolution mediators, namely community leaders, indigenous leaders, and local governments from both the Head of Tampo Village and the Head of Napabalano District. In addition, litigation dispute resolution is the final means after alternative dispute resolution does not produce results, the Raha District Court is authorized to adjudicate because the dispute that occurred in Tampo Village napabalano district of Muna regency is the jurisdiction of the District Court (PN) Raha.
References
Bakri, Muhamad. 2007. Hak Menguasai Tanah oleh Negara Paradigma Baru untuk Reformasi Agraria, Jakarta: Citra Media.
Erwiningsih, Winahyu. 2009. Hak Menguasai Negara Atas Tanah, Yogyakarta: Total Media.
Harahap, Yahya. 2014. Hukum Acara Perdata, Jakarta: Sinar Grafika.
Harsono, Boedi. 2008. Hukum Agraria Indonesia Sejarah Pembentukan UndangUndang Pokok Agraria, Isi dan Pelaksanaannya (Jilid I Hukum Tanah Nasional), Jakarta: Penerbit Djembatan.
Hutagalung, Sukanti Ari Ny. dan Gunawan, Markus. 2009. Kewenangan Pemerintah dalam Bidang Pertanahan, Jakarta: Rajawali Press.
Ismail, Nurhasan. 2007. Perkembangan Hukum Pertanahans Pendekatan Ekonomi Politik (Perubahan Pilihan Kepentingan, Nila Sosial, dan Kelompok Diuntungkan), Jogjakarta: Huma dan Magister Hukum UGM.
Khairandy, Ridwan. 2004. Iktikad Baik dalam Kebebasan Berkontrak, Jakarta; UI Press.
Koesumo, Merto Sudikno, 2007. Mengenal Hukum Suatu Pengantar, Yogyakarta: Liberty.
Komariah. 2002. Hukum Perdata, Malang: Universitas Muhammadiyah Malang.
Marzuki, Mahmud Peter, 2005. Penelitian Hukum, Jakarta: Kencana.
--------. 2015. Penelitian Hukum, Cetakan Ke-10, Edisi Revisi, Jakarta: Kencana Prenada Media Group.
MD., Mahfud Moh. 1999. Karakter Produk Hukum Zaman Kolonial Studi Tentang Politik dan Karakter Produk Hukum Pada Zaman Penjajahan di Indonesia, Yogyakarta: UII Press.
Muljd, Kartini dan Gunawan. 2003. Perikatan Yang lahir Dari Perjanjian, Jakarta: Radja Grafindo Persada.
Pamuladi, Bambang. 1999. Hukum Kehutanan & Pembangunan Bidang Kehutanan, Cetakan 3, Jakarta: PT Raja Grafindo Persada.
Rahardjo, Satjipto. 2014. Ilmu Hukum, Cetakan 8, Edisi Revisi, Bandung: Citra Aditya Bakri.
Rahmadi, Takdir. 2015. Hukum Lingkungan, Cetakan 5, Jakarta: Rajawali Pers.
Ritzer, George. 1992. A Multiple Paradigm Science (Sosiologi Ilmu Pengetahuan Berpradigma Ganda) (Terj. Alimandan), Jakarta: Rajawali Press.
Salim, H.S. 2006. Dasar-dasar Hukum Kehutanan, Cetakan 3, Jakarta: Sinar Grafika.
Santoso, Urip. 2011. Pendaftaran dan Peralihan Hak atas Tanah, Jakarta: Kencana.
Sitorus, Oloan. 2004. Kapita Selekta Perbandingan Hukum Tanah, Yogyakarta: Mitra Kebijakan Tanah Indonesia.
Subekti. 2014. Aneka Perjanjian, Bandung: Aditya Bakti.
Subekti, R. dan R. Tjitrosudibio 2004. Kitab Undang-Undang Hukum Perdata, Jakarta: Pradnya Paramita.
Suharnoko. 2008. Hukum Perjanjian, Teori dan Analisa Kasus, Jakarta: Prenadamedia Group.
Sulistiyono, Adi. 2006. Mengembangkan Paradigma Non-Litigasi di Indonesia, Surakarta: UNS Press.
Tauchid, Mochammad dan Freud. 2009. Masalah Agraria Sebagai Masalah Penghidupan Dan Kemakmuran Rakyat Indonesia, Yogyakarta: STPN Press.
Usman, Rachmadi. 2012. Mediasi di Pengadilan, Jakarta: Sinar Grafika.
Winarta, Frans Hendra. 2012. Hukum Penyelesaian Sengketa, Jakarta: Sinar Grafika.
Yudha Hernoko, Agus. 2008. Hukum Perjanjian Asas Proporsionalitas Dalam Kontrak Komersial, Yogyakarta: Mediatama.
Online Media
Agra Verta Ardi Nugraha, 2015. Keabsahan Perjanjian Jual Beli Tanah yang didalamnya Mengandung Cacat Hukum, Skripsi, Jember: Universitas Jember Press.
AP Parlindungan dalam Aswanto, 2004. Kedudukan Petani Penggarap dalam Perspektif Hak Menguasai Negara (Studi Kasus Penggunaan Tanah di Kawas Penyangga Taman Nasional Kerinci Sablat di Kecamatan Gunung Raya Kabupaten Kerinci-jambi), Tesis, Semarang: Universitas Dipenogoro Press.
I Made Widnyana, 2009. Alternatif Penyelesaian Sengketa (ADR), Jakarta: Fikahat Aneskan bekerjasama dengan BANI.
Idrus Abdullah, 2002. Penyelesaian Sengketa Melalui Mekanisme Pranata Lokal: Studi Kasus dalam Dimensi Pluralism Hukum pada Area Suku Sasak di Lombok Barat, Disertasi, Depok: Program Doctor Pascasarjana Universitas Indonesia.
Mochamad Munir, 1997. Penggunaan pengadilan Negeri sebagai Lembaga untuk Menyelesaikan Sengketa dalam Masyarak, Disertasi, Surabaya: Program Doktor Pascasarjana Universitas Airlangga.
Sahnan, 2015. Pilihan Hukum Penyelesain Sengketa Tanah diluar Pengadilan, Mimbar Hukum Volume 27, Nomor 3, Oktober 2015, Halaman 405-417.
Widodo Dwi Putro, dkk, 2015. Pembeli Beritikad Baik dalam Sengketa Perdata Berobjek Tanah, Jakarta: Puri Imperium Office Plaza.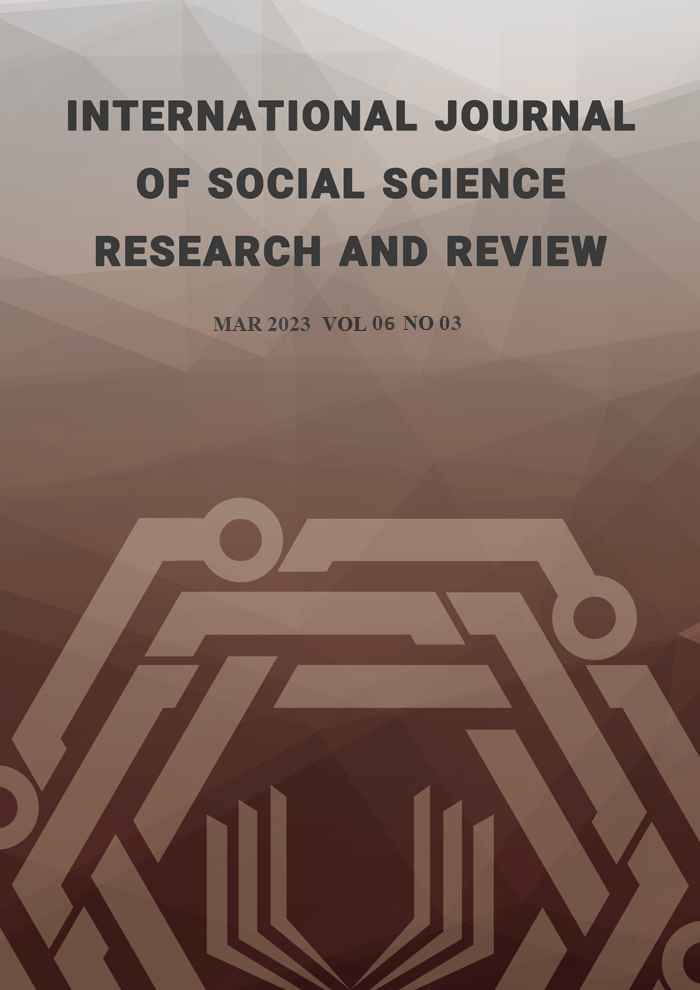 How to Cite
Nugraha, W., & Mahfud, M. A. (2023). Analysis of Buying and Selling Land in Production Forest Areas in the Tampo Sub-District, Napabalano Sub-District, and Muna District. International Journal of Social Science Research and Review, 6(3), 439-448. https://doi.org/10.47814/ijssrr.v6i3.1110
This work is licensed under a Creative Commons Attribution-NonCommercial-NoDerivatives 4.0 International License.
Copyright for this article is retained by the author(s), with first publication rights granted to the journal. This is an open-access article distributed under the terms and conditions of the Creative Commons Attribution license (https://creativecommons.org/licenses/by-nc-nd/4.0/).