Trafficking in Tech Crimes Against the Study of Vikology at This Time
Zain Arfin Utama

Master of Law, Faculty of Law, Diponegoro University, Indonesia

R.B. Sularto

Master of Law, Faculty of Law, Diponegoro University, Indonesia
Keywords:
Human Trafficking; Victimology; Modus Operandi; Online Media
Abstract
Human trafficking predators recruit teens as potential victims through online social media where this research is normative yuridis research. Hokum contributions to the future that will come. It is also normative, or empirical, because it relates to science-related study of victims (victimology). Structured modus operandi can also be done online through many online media, such as wa, michat, tweeting, job openings, Instagram, etc., so that the modus operandi performed by the perpetrators often fluctuates according to black market needs. This item law had a rule of jurisdiction that applied to each person who performed the legal act as prescribed in the law. The assurance of protection of the law used by informatics technology as the victim of the cybercrime crime, which means through our consciousness we have made peace and social welfare the goal of protecting the law against the victim and criminal penalties of the cybercrime. So it should be given to victims of criminal trafficking.
References
Alexander, C., & Cohen, M. 2011. The Causes of Corporate Crime: An Economic Perspective. In A. Barkow & R. Barkow (Eds.), Prosecutors in the Boardroom: Using Criminal Law to Regualte Corporate Conduct 11. New York: New York University Press. P.
Dikdik M.Arief Mansur dan Elisatris Gultom, Urgensi Perlindungan Korban Kejahatan Antara Norma dan Realita, 2008, Jakarta: Raja Grafindo Persada.
Farhana, Aspek Hukum Perdagangan Orang di Indonesia, Cetakan Pertama: November 2010, Jakarta:Sinar Grafika.
G. Widiartana, Viktimologi Perspektif Korban dalam Penanggulangan Kejahatan, Yogyakarta: Cahaya Atma Pustaka.
Muladi, Kapita Selekta Sistem Peradilan Pidana, Semarang, Universitas Diponegoro, 1995.
Munthe Riswan, Perdagangan Orang (Traffiking) sebagai Pelanggaran Hak Asasi Manusia, Jurnal Pendidikan Ilmu-Ilmu Sosial, 2015, Universitas Medan Area.
Lapian dan Geru, Trafficking Perempuan dan Anak, Penanggulangan Komprehensif, Studi Kasus Sulawesi Utara, Jakarta: Yayasan Obor Indonesia, 2006.
Soejono Soekanto, Penelitian Hukum Normatif, Suatu Tinjauan Singkat, Jakarta: Rajawali, 2007.
Wati ,Briliyan Erna,Victimologi, Cetakan Pertama, November 2015, Semarang: CV. Karya Abadi Jaya.
https://www.kominfo.go.id/content/detail/24448/sinergitas-cegah-eksploitasi-seksual-anak-lewat-media-online/0/berita_satker , diakses pada 16 Februari 2023, pukul 20.11 WIB.
https://www.kemenpppa.go.id/index.php/page/read/29/2812/berantas-perdagangan-orang-dengan-modus-eksploitasi-seksual-di-media-daring-kemen-pppa-kenali-modusnya-dan-pahami-perkembangan teknologi diakses pada tanggal 16 Februari 2023 pukul 20.25 WIB.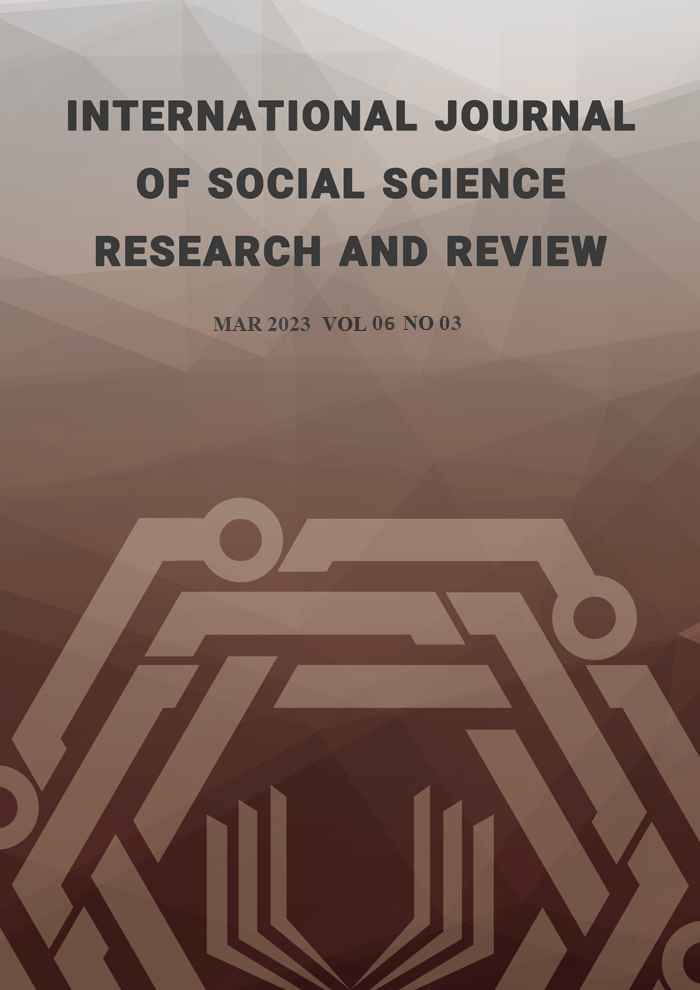 How to Cite
Utama, Z. A., & Sularto, R. (2023). Trafficking in Tech Crimes Against the Study of Vikology at This Time. International Journal of Social Science Research and Review, 6(3), 432-438. https://doi.org/10.47814/ijssrr.v6i3.1109
This work is licensed under a Creative Commons Attribution-NonCommercial-NoDerivatives 4.0 International License.
Copyright for this article is retained by the author(s), with first publication rights granted to the journal. This is an open-access article distributed under the terms and conditions of the Creative Commons Attribution license (https://creativecommons.org/licenses/by-nc-nd/4.0/).