The Socio-Political Function of Grace in Wesleyan Theology and Praxis
Isaac Boaheng

Lecturer, Christian Service University College, Ghana
Keywords:
Grace; Fallen Humanity; Love; Wesley; Soteriology
Abstract
One of the key theological themes in Wesleyan studies is the concept of grace. The doctrine of grace is foundational to John Wesley's soteriology and socio-political theology. Divine grace comes to play in the creation, and redemption of humankind. God's gracious dealing with sinful humanity produces in the believer the love for God and for other human beings. Consequently, the renewal of the believer does not only affect the believer's inner being but also informs the believer's relationship with other humans and with the environment. In the contemporary world where many Christians privatize their faith and virtually make no impact in the public arena, an exploration of the socio-political role of grace in John Wesley's theology and praxis provides a model which could be followed in making Christianity meaningful and relevant in everyday life. This article used a literature-based research approach to examine how Wesley's experience of divine grace informed his theological views about the fall of humanity, restoration of sinful humanity, and holiness. The paper also examines Wesley's efforts in dealing with such socio-political issues as poverty, slavery and oppression. The main thesis of the paper is that, for the Christian gospel to have both spiritual and socio-political ramifications, Christians must participate actively in the socio-political activities of their societies. The paper, therefore, aims at discouraging the dichotomization between private and social life.  
References
Aboagye-Mensah, R. (2013). John Wesely and the Methodists. Accra: Adwinsa Publications.
Barry, S. (2003). John Wesley and Human Rights. Magister Artium in Theological Ethics: Potchefstroomse Universiteii vir Christelike
Bhagwan, J.S. (2013). Sailing to the Island of Hope: A Wesleyan Ethical Framework for 21st Century Fiji. Master of Theology in Christian Ethics: Methodist Theological University:
Boafo, P.K. (2014). John Wesley's Theology and Public Life: His Socio-Political Thought in the Ghanaian Context. Accra: Asempa Publishers.
Cameron, R.M. (1961). "Methodism and Society in Historical Perspective." In Methodism and Society, Volume 1. New York /Nashville: Abingdon Press.
Heitzenrater, R.P. (2002). "The Poor and the People Called Methodists." In The Poor and People Called Methodists, edited by Richard P. Heitzenrater. Nashville: Kingswood Books.
Jennings, T.W. Jr. (1990). Good News to the Poor: John Wesley's Evangelical Economics. Nashville, TN: Abingdon Press.
Kim, Y.T. (2006). John Wesley's Anthropology: Restoration of the Imago Dei as a Framework for Wesley's Theology. PhD Thesis: Drew University.
Marquardt, M. (1992). John Wesley's Social Ethics: Praxis and Principles. Nashville: Abingdon Press.
Mpere-Gyekye, William A. & Robert W. Brodie. (2019). "A Wesleyan Theology of Politics for the Ghanaian Context." Conspectus: The Journal of the South African Theological Seminary, vol. 27: 142-159.
Runyon, T. (2012). Exploring the Range of Theology. Eugene, OR: Wipfandstock Publishers.
Sigsworth, J.W. (1982). World Changers: Karl Marx and John Wesley. Ontario:Easingwold Publications.
Yrigoyen, Charles. (1996). John Wesley: Holiness of Heart and Life. Nashville: Abingdon Press.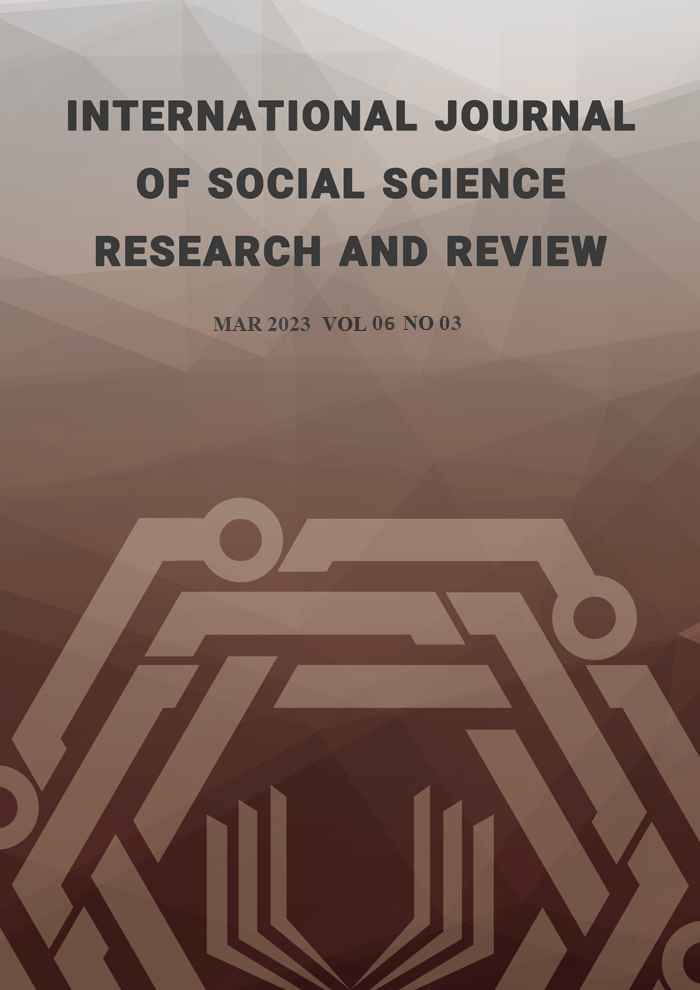 How to Cite
Boaheng, I. (2023). The Socio-Political Function of Grace in Wesleyan Theology and Praxis. International Journal of Social Science Research and Review, 6(3), 300-311. https://doi.org/10.47814/ijssrr.v6i3.1095
This work is licensed under a Creative Commons Attribution-NonCommercial-NoDerivatives 4.0 International License.
Copyright for this article is retained by the author(s), with first publication rights granted to the journal. This is an open-access article distributed under the terms and conditions of the Creative Commons Attribution license (https://creativecommons.org/licenses/by-nc-nd/4.0/).