Use of Charms in Succession Politics of Traditional Luba Leaders of Kasai Central in the Democratic Republic of Congo
David Bilungule Bakamana

Tangaza University College

Laurenti Magesa

Hekima University College

Clement Chinkambako Abenguuni Majawa

Catholic University of Eastern Africa
Keywords:
Succession Politics, Traditional Leadership, Luba, Manga (Charms)
Abstract
The study focusses on the role of indigenous manga (charms) in the politics of succession in traditional leadership among the Luba people in the Democratic Republic of Congo (DRC). The Luba people possess and use various types of indigenous charms for different societal functions. They play a more salient role in how traditional leadership is practiced in the community. It is already established that, traditional leaders perform various functions within the community including providing security, regulating societal activities, administering justice, resolving disputes and so on. The objective was thus to investigate how the various types of fetishes/charms are incorporated and used in succession in traditional leadership. The study used a phenomenological approach, with data collected from various traditional leaders and charm givers, provincial members of parliament in Kasai in DRC. The findings indicate presence and use of various types of indigenous manga in traditional leadership succession. These come both in the form of symbols, rituals such as the enthroning ceremony of a traditional leader, and following the customs, laws and traditions of traditional leadership. Such traditions or customs include the requirements that a traditional leader must protect everyone in the society, ensure there is justice, accountability, good luck, prosperity and good governance in the community.
References
Creswell, J. W. (2014). Research design: Qualitative, quantitative and mixed methods approaches (4th Ed.). London, UK: Sage.
Dodo, O. (2013). Traditional leadership systems and gender recognition: Zimbabwe. International Journal of Gender and Women Studies, 1(1), 29-44. Retrieved from https://pdfs.semanticscholar.org/6032/009e3373abc6679f04ea86b91c0df668dacc.pdf
Gaynor, N. (2013). Local governance, conflict and peace building in the Democratic Republic of the Congo. A research report prepared in collaboration with the governance and gender programme of Trócaire-DRC. Dublin City University, Ireland. Retrieved from https://www.shareweb.ch/site/DDLGN/Documents/DRC_Decentralisation_Research_Report_-_Full_EN_2.pdf
Husserl, E. (1977). Phenomenological psychology: Lectures, summer semester, 1925 (J. Scanlon, Trans.). Boston: Martinus Nijhoff. (Original work published in 1925).
Igboin, B. O. (2016). Traditional leadership and corruption in pre-colonial Africa: How the past affects the present. Studia Historiae Ecclesiasticae, 42(3), 142-160. doi:10.25159/2412-4265/228
Koenane, M. L. (2017). The role and significance of traditional leadership in the governance of modern democratic South Africa. African Review, 10(1), 58-71. doi:10.1080/09744053.2017.1399563
Macola, G. (2015). Luba–Lunda states. Wiley Online Library. doi:10.1002/9781118455074.wbeoe060
Maxwell, D. (2016). The creation of Luba land: Missionary science and Christian literacy in the making of the Luba Katanga in Belgian Congo. Journal of Eastern African Studies, 10(3), 367-392. doi:10.1080/17531055.2016.1254923
Merriam, S. B., & Tisdell, E. (2016). Qualitative research, a guide to design and implementation (4th Ed.). San Francisco, CA: Jossy-Bass.
Nooter, M. R. (2017). Embodied ambiguities in Luba royal arts. In F, Angrew, & H. Ellen (Ed.), Vissual Culture of the AncientAmericas: Contempoary Perspectives (pp.1-21). Columbia University Department of Art History and Archaeology: Online Addenda.
Ola, R. F., & Tonwe, D. A. (2009). Local administration and local government in Nigeria. Lagos, NG: Amfitop Books.
Pareto, V. (1935). The Mind and Society. A Treatise on General Sociology. Mineola, NY: Dower.
Pareto, V. (1968). The rise and fall of the elites: An application of theoretical sociology. New Jersey, NJ: The Bedminster Press.
Peterson, D., Emma, H., & Stephanie, N. (2016). Eds. African print cultures: Newspapers and their publics in the twentieth century. Ann Arbor: University of Michigan Press.
Rapatsa, M. (2015). Traditional Leadership and Democratic Governance: Using Leadership Theories to Calibrate Administrative Compatibility. Acta Universitatis Danubius Administration, 7(2), 27-36. Retrieved from http://journals.univ-danubius.ro/index.php/administratio/article/view/3070/3077
Rugarabura, N., & Robain, P. (2008). Traditional chieftaincy and decentralization in the Democratic Republic of Congo: Opportunities and challenges. [Doctoral Thesis, Tesi di Dottorato, LUISS Guido Carli].
Weber, M. (1964, 1978). The theory of social and economic organization. New Work, NY: The Free Press.
Wedel, J. R. (2018). From power elites to influence elites: Resetting elite studies for the 21st century. Theory, Culture & Society, 34(5-6), 153-178. doi:10.1177/0263276417715311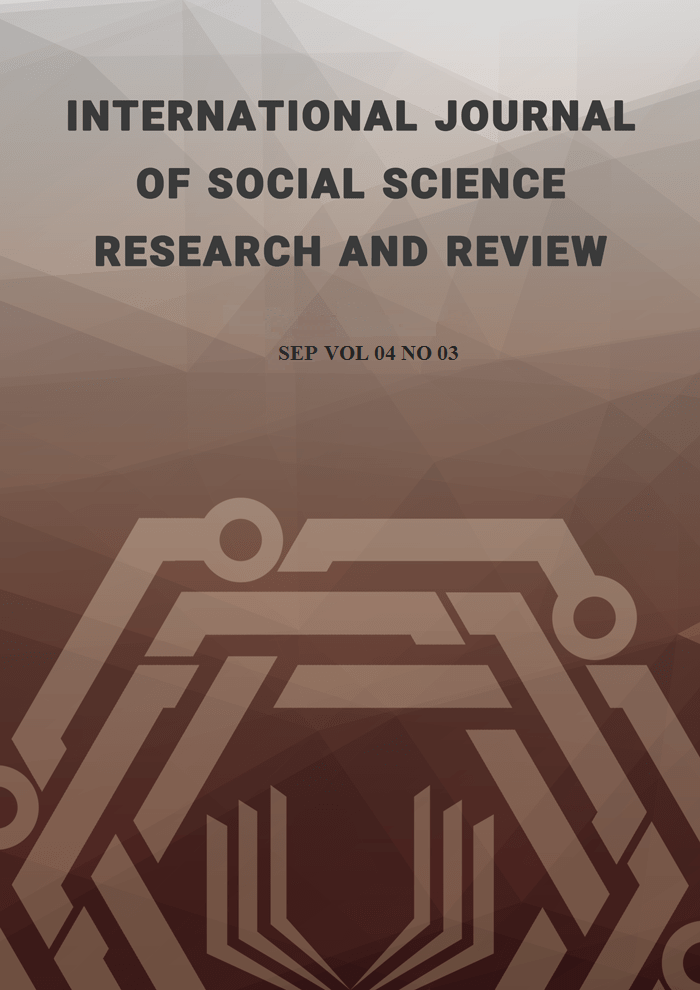 How to Cite
Bakamana, D., Magesa, L., & Abenguuni Majawa, C. C. (2021). Use of Charms in Succession Politics of Traditional Luba Leaders of Kasai Central in the Democratic Republic of Congo. International Journal of Social Science Research and Review, 4(3), 65-74. https://doi.org/10.47814/ijssrr.v4i3.105
This work is licensed under a Creative Commons Attribution-NonCommercial-NoDerivatives 4.0 International License.
Copyright for this article is retained by the author(s), with first publication rights granted to the journal. This is an open-access article distributed under the terms and conditions of the Creative Commons Attribution license (https://creativecommons.org/licenses/by-nc-nd/4.0/).